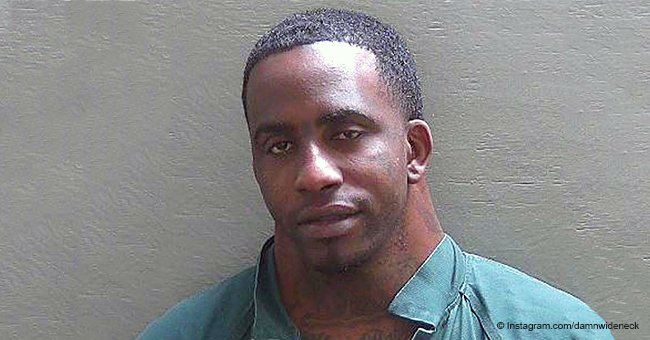 Remember this viral mug shot guy, 'Wide Neck'? He's back in jail after judge revoked his bond
The man whose mug shot went viral and earned him the nickname "wide neck" is back in jail after a judge revoked his bond.
Charles McDowell was the wide-necked Pensacola man whose mug shot went viral. The mugshot propelled into internet stardom.
McDowell was booked back into Escambia County Jail on Tuesday night. His bond was apparently revoked by a judge.
McDowell is facing drug charges as well as charges for attempting to elude police. He was released on bond but according to jail records the bond was revoked.
The details surrounding the reasons his bond was revoked remains unclear. According to the coding used by the county jail apparently, the bonding company that helped put up his bond in mid-November has changed their mind and is not fronting the money up.
Since his last arrest, McDowell joined an Instagram group known as the Shrimp Gang. The group reportedly consists of online celebrities like the man with an abnormally long neck known as Daddy Long Neck.
McDowell was using his Instagram popularity to land jobs such as appearances at nightclubs and other venues throughout the United States. He also began promoting brands through his Instagram account.
McDowell's rise to fame in recent months also saw him appear in the celebrity pro-bowl showdown in Orlando. He posed with boxer Floyd Mayweather for a pic at the event.
Before finding online fame, McDowell was convicted of a long list of offenses in Florida. In December 2005, he was convicted to a year in jail for grand theft auto.
In March 2008 he was sent to jail for a year for a hit run and driving with a suspended license. He was also arrested on drug and traffic offenses in the same year.
In 2011 he spent another month in jail for battery. That stint was followed by three more months in 2014 for the same offense.
At the start of 2018, he was convicted of possessing cocaine and sentenced to seven months in prison. He was also suspected for involvement in a Bay Minette triple shooting in 2011.
McDowell is due to appear in court on February 21.
Please fill in your e-mail so we can share with you our top stories!