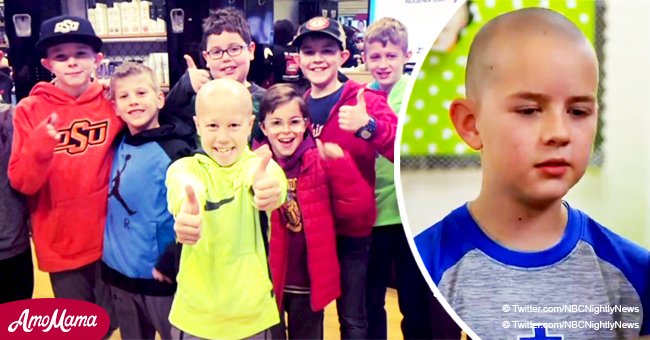 Third-graders shave their heads to encourage classmate not to be ashamed of himself

The act of cutting their hair was to show solidarity for their friend suffering an autoimmune disorder.
Sometimes, all we need to carry on with life when it takes a harsh turn is a reliable, compassionate support system. And no age range of humans shows compassion like children do.
So when Luke Nelson, a 3rd-grade pupil of Oklahoma Christian School in Edmond Oklahoma, had his hair starting to fall out about two months ago and was subsequently diagnosed with alopecia - an autoimmune disorder - his classmates came through for him in a most epic way. Sixteen of the 3rd-graders, including two of his brothers, decided to have their hair completely shaved off so as not to leave Luke sticking out like a sore thumb.
"It was very hard for me. I was afraid of being…well, different," - Luke confessed when NBC's Catie Beck featured him.
Being, self-conscious about his appearance, Luke began to wear a baseball cap often. The sentiment among his classmates, as expressed by the third grader's classmate and friend, Clayton Sargeant, was that he was hurting and needs all the help and support possible.
And so they decided to give just that to him by taking a group trip to Sports Clips in Edmond to model their look after their sick friend. Keying into what the kids were trying to do, the barbershop provided the haircuts for free.
"I'm really glad we did it, just to help Luke and give him some self-confidence," revealed Walt Free, another one of Luke's friends.
Luke's mother, Susan Nelson, who also suffers the condition, pondered on the lesson that this singular act teaches the kids which is to have each other's backs. She stated that they would keep this principle throughout their lives. Luke also said that with his friends' support, he does not have to feel afraid anymore.
Susan mentioned that the act of solidarity was a life-changing moment for her son as he has been exuding confidence and even played his first basketball game without a hat. The kids then took a group picture with all of them sporting the same hairstyle.
Touched by this act, some Facebook users commented under the post of the story. One user said:
"Look how incredible this future generation is! Way to go parents! Doing some good in this crazy world."
Another commented:
"You boys are true friends! Keep showing your support & love for Luke! Thank you for showing the World what love for each other and true compassion looks like!!"
Please fill in your e-mail so we can share with you our top stories!