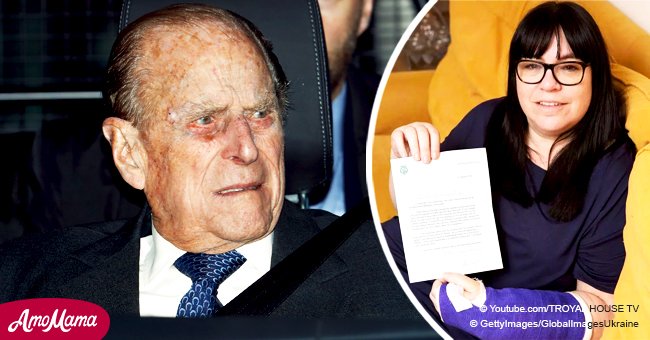 'Deeply Sorry': here's how Prince Philip apologized to mom involved in car crash

The crash victim had earlier called out the Duke for his quietness after causing her a wrist injury in a car crash.
The word is now out that Prince Philip finally reached out to the victim of his crash about two weeks ago. The letter came after the lady, Emma Fairweather called the Duke out for not apologizing sooner, even though she confirmed to have received the Queen's best wishes on voicemail. She had also suggested that the Queen's husband gets prosecuted.
However, six days after the crash, January 23, Fairweather received the much-desired and much-awaited letter which was hand-delivered to her residence in King's Lynn, Norfolk.
The letter, dated January 21, was typed on the Sandringham letterhead but was signed in blue ink in the Prince's hand. In the note, Philip expressed how sorry he was to have caused the accident.
The Prince went on to say how the crash left him a bit on edge and also recalling that he was advised by the police to return to the Sandringham house just as a crowd began to gather. Philip also expressed regret of the injury he learned she suffered through the incident.
Reacting to the letter, Emma was astonished when she saw the special royal paper — also pleased that the Prince apologized for her pain, stating that it was "a nice touch" having the note signed by Pince Philip himself instead of the official title.
She, however, disagreed with the 97-year-old Duke over specific details of the day of the crash. He had said in the letter that it was a bright sunny day and the sun was shining low on the main road, which made him fail to see the oncoming vehicle.
Fairweather, however, contends that the day was overcast.
"He's tried to give an explanation, so I appreciate that, whether I agree with it or not. It is a difficult letter to write – to know what would be the right thing to say without making me more upset," she had said.
Emma, a care support worker, is now off work for two months due to her injuries and she wants to proceed to claim compensation. Although a fan of the royals, she has said that the letter will not be displayed in her home but will rest in a file with other paperwork on the matter.
Despite the furor generated by the fact that he is still driving, Prince Philip was found driving again just two days after the crash, this time without his seatbelt in place, though he was cautioned by the police afterward.
Please fill in your e-mail so we can share with you our top stories!