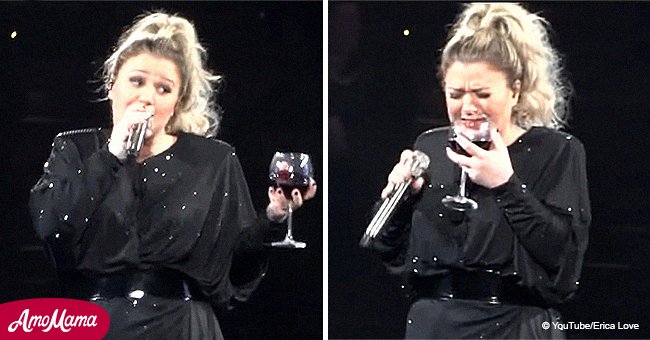 Kelly Clarkson sips wine while performing emotionally powerful cover of Miranda Lambert's song
Singer and songwriter Kelly Clarkson stunned the crowd with her incredible cover of Miranda Lambert's "Tin Man."
On January 24, Clarkson, 36, spent the premiere night of her "Meaning of Life" tour tearing into a slew of her pop hits such as "Miss Independent" and "Behind These Hazel Eyes."
"I sing a lot of Miranda Lambert songs, because I think she's a fantastic writer."
However, a highlight was her slowed-down cover of the hit song "Tin Man," which is from Lambert's latest record, "The Weight of These Wings."
The award-winning singer was filmed by some fans sipping wine while singing the heartbreaking melody.
Each night, the "A Moment Like This" singer, who rose to fame in 2002 after winning the inaugural season of the television series "American Idol," is hosting a Facebook Live event while she is on tour.
During the Facebook Live event, Clarkson shared more of her fondness for "Tin Man," which was written by Lambert, alongside Jack Ingram and Jon Randall.
"I love that song. When I heard it, I happened to be cleaning out my closet…" she said, "I had my phone on and that came on and I was like, 'Whaaaat?' I was bawling. My husband walks in and was like, 'What's wrong with you?' I was a sobbing mess."
"There's nothing greater than a writer writing something that you feel like you've felt," she continued. "I know that sounds so cheesy but it's the most connecting thing ever and I adore it."
The mother-of-two added that ever since she heard the song, she told herself that she must record it or sing it somewhere.
"I sing a lot of Miranda Lambert's songs because I think she's a fantastic writer. I just think, man, the lyrics cut," Clarkson continued.
In May 2018, Clarkson also bewildered the crowd with her staggering rendition of the U.S. national anthem, "The Star-Spangled Banner," at the Indianapolis Motor Speedway for the annual Indy 500.
More than 20,000 people attended the event, and they can't get enough of her fantastic performance.
"Thank you so much [Indianapolis Motor Speedway] for having me!!," Clarkson wrote on her Twitter account. "Y'all know how to have good time."
She sure has done it again, and the internet is blowing up with praise for her performance.
Please fill in your e-mail so we can share with you our top stories!