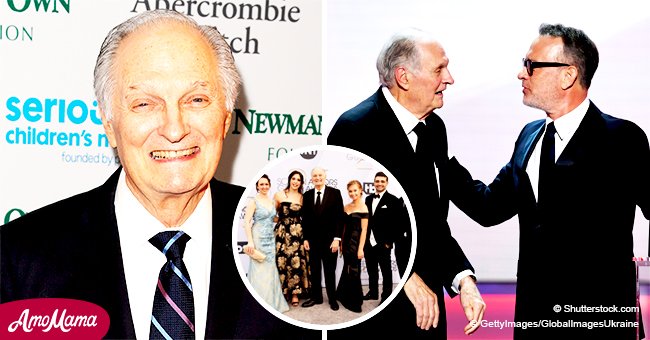 Alan Alda gets emotional during a powerful speech at the SAG Awards

The veteran actor, Alan Alda won the Screen Actors Guild lifetime awards and didn't leave the stage without a powerful, heartfelt message for the celebrity audience and viewers from all over the world.
With a lot of beautiful appearances at the event; the multi-talented star, dressed up in a smart looking tux, received the award with cheer as Tom Hanks presented it. He went on to show his gratitude in a somewhat brief but insightful speech.
"This comes at a time when I've had a chance to look back on my life and to see what it's meant to be an actor, I see more than ever now, how proud I am to be a part of our brotherhood and sisterhood."
Alda emotionally said as he was handed the accolade alongside a lengthy standing ovation from his on-screen colleagues at the Shrine Auditorium in Los Angeles.
The comedian, who is known for his famous Hawkeye Pierce role on the popular series "M.A.S.H" where he appeared in 11 seasons from 1972 to 1983, has continued to work despite a diagnosis of Parkinson's disease. He avidly described the acting career as the ability:
"to see life through another person's point of view."
Alan continued by saying that:
"It may never have been more urgent to see the world through another person's eyes when a culture is divided so sharply, Actors can help, at least a little, just by doing what we do."
The American actor started his career in the 1950s as a member of a company involved in comedy revue at a time when playhouses were the ideal. Now, for 60 years of successful acting, he has gotten 6 Emmy awards and 6 Golden Globe awards amongst others. His tentacles have also spread to charity as mentioned by Hanks as he invited him to the stage.
During the handing over of the SAG award, Alda's years of philanthropy and affection for learning which includes science were praised; there were display of clips from Alda's career, from roles such as: "Same Time, Next Year" and "The Aviator," and the TV shows "The West Wing," ''ER," and "The Blacklist, " and of course "M.A.S.H."
With gratitude, the 83-year-old ended his speech on a light note as he implored actors to bask in the joy of their profession.
"The nice part is it's fun to do it," Alda said. "So my wish for all of us is, let's stay playful, let's have fun and let's keep searching. It can't solve everything but it wouldn't hurt."
Alan has a beautiful wife, Arlene Alda and the couple who met in college have been together for over 60 years. They are both blessed with three beautiful daughters. It was indeed an honor well deserved for the Alda family as a whole.
Please fill in your e-mail so we can share with you our top stories!