Waitress speaks out after she finds 'Don't tip immigrants' written on the back of a receipt
The server at a New Jersey café was left behind a racist note by a couple after hearing her speaking Spanish with another waitress.
The Under the Moon Café server Lorena Bossi updated in a Facebook post, which has now been removed, that the couple was 'friendly and kind' to her in the beginning when she served their table.
But when she heard her speaking Spanish, their behavior suddenly changed. At the end of the day, she even received the hurtful note that said, "Don't tip immigrants.'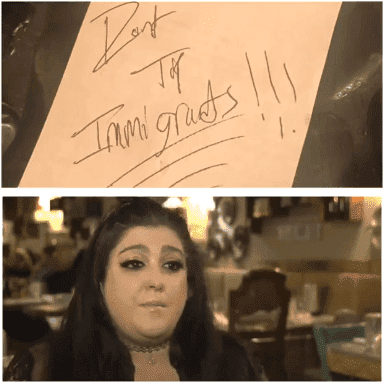 "You could tell they loved the experience, the man even called me 'sweet' and said 'my suggestion was great,'" she wrote on social media, as quoted by ABC 7.
She also explained to the source that she was only thanking the other waitress in Spanish because he was helping her clean up.
"It was so weird that they had just transitioned from loving me as a person to all of a sudden, 'Oh, she speaks Spanish? She must be an immigrant. Let's leave.'"
Lorena Bossi, ABC 7, January 28, 2019
Meanwhile, Bossi has the complete support of her employer, Santiago Orosco, who is the owner of the restaurant.
He called the customers' behavior "hurtful," "mean," and completely "unacceptable" before declaring that the couple was no longer welcome at the café.
"Immigrants are a huge part of our country and our society. And one of the reasons I'm doing this is to stand up to them and show them another side of the immigration," Orosco told the source.
Despite the racist "immigrant" remark put on her, Bossi is, ironically, a second-generation American, the source informed. Her family is from Uruguay and she is adept in two languages.
Bossi went on to say that the couple's behavior will make no difference in how she treats them the next time they visit the restaurant.
Despite being hurt, she would go on to serve the customers the same service as she did the first time.
In a similar incident last year, a video revealed a customer shouting angry remarks at two people for speaking Spanish in a grocery store.
A racist white woman who was harassing two Hispanic women in a store for having the nerve to speak Spanish to each other gets checked by a younger woman who condemned her bigotry.

Thank you to the young lady who took out this trash.

pic.twitter.com/dimgbHO2gg

— Bishop Talbert Swan (@TalbertSwan) October 4, 2018
During the incident, a courageous woman was filmed interfering and defending two Hispanic customers being abused.