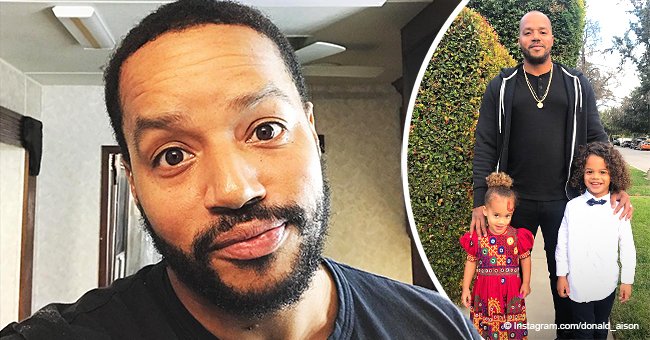 Donald Faison glows with pride in recent photo with his biracial kids rocking adorable hairdos
Donald Faison is melting hearts with an adorable pic alongside his youngest kids, Wilder and Rocco, as they show off some fashionable outfits and hairstyles.
The "Scrubs" star is a proud father in a new Instagram pic with his kids, Rocco, 5, and Wilder, 3, whom he shares with wife CaCee Cobb. In the shot, the trio stands in the middle of a sidewalk, with Faison keeping his dad's fashion casual wearing all-black shirt, sweater and jeans, as he smiles in the middle of his toddlers.
Rocco, on the other hand, is quite the charmer in a white shirt with a bow tie, jeans, and white sneakers. His little sister, Wilder, gave the feminine touch to the family pic, donning a long red dress with colorful details.
Both kids showed off their curly hairstyles, with Rocco letting his long hair fall on his shoulders, while Wilder had hers tied up in a top bun.
"Ain't nobody Effing with my clique..." Faison captioned the pic.
Fans took over the comment section to gush about how adorable the kids are, and some even pointed out the striking resemblance they have with Donald.

Fans' comments. Source: Instagram/donald_aison
Aside from Rocco and Wilder, Donald is also the father of four other kids from previous relationships: Sean, 21, twins Dade and Kaya, 19, and Kobe, 17.
Two years ago, Faison's family faced a significant loss, when his ex-wife Lisa Askey passed away after fighting with an undisclosed illness for months. She was the mom of Dade, Kaya, and Kobe, and according to Faison, it was her who helped him get his life together when they were still a couple.
"I spent money on stupid things. A motorcycle, a big-screen TV," Faison told People in 2002, a year after marrying Lisa. "I was lazy, and she straightened me out."
They divorced three years later. And even though Faison admitted he and Lisa never saw "eye to eye," he made sure to pay tribute to her after her passing, sharing a pic of his son's Dade holding Lisa's hand, and captioned it:
"My son Dade is very brave. Today he and his brother Kobe and sister Kaya lost their mother. Lisa Askey Faison. She and I never really saw eye to eye, but one thing we did share was our love for our children. RIP Lisa. You raised three beautiful children into fine adults, and I am forever grateful for that. May God bless your soul with light and love."
Faison has managed to keep his family together, and his eldest children enjoy playing around with the little ones whenever they reunite, creating beautiful family portraits like the one Donald shared last Father's Day.
Please fill in your e-mail so we can share with you our top stories!