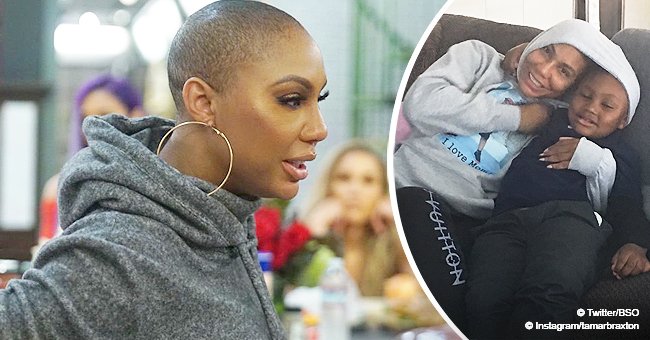 Tamar Braxton burst into tears when 'CBB' co-star talks about her son but refuses to go home to him
Tamar Braxton burst into tears after a "Celebrity Big Brother" co-star talks about her son. However, she refused to go home to him.
Celebrity Big Brother is back with a bang tonight. Tamar Braxton was once again in the middle of the drama.
She had a mini meltdown over her son in the last episode. The mom of one was put in the hot seat when she was nominated for elimination by the Head of Household, Kato Kaelin.
Kato nominated the "Braxton Family Values" star. He explained during his nomination speech that he chose her because he thought that she might want to go back home to be with her son.
The single mum was angered by the comment. She teared up and told two of her other housemates exactly what she thought about it.
"My kid is off-limits to everybody. You say nothing about my son, " Braxton tearfully said."Man I have been going through a lot. You don't come for my kid and my motherhood. I am a single mother by choice 'cause I want a better life for my kid."
Later in the episode, Tamar had a heart-to-heart with Kato. They managed to come to an understanding and worked out their issues.
Tamar said, "I am a single mother. I am used to being away from my son. I am here for my son, but i don't want to go home and be with my son before it's time."
Tamar realised he meant no harm and they hugged each other. Tamar was not eliminated and will remain in the house.
Tamar has one son named Logan Vincent Herbert. She shares him with her soon-to-be ex-husband Vincent Herbert.
She is currently in a relationship with boyfriend T'Chella. Earlier this week, Tamar made controversial comments about her families sleeping arrangements.
The star revealed that her five-year-old son Logan sleeps in the same bed with her and her new boyfriend. She went on to say it was none of his father's business.
Please fill in your e-mail so we can share with you our top stories!