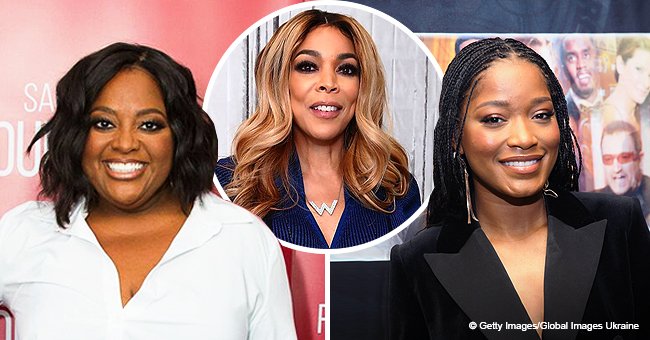 Keke Palmer, Sherri Shepherd & more join Nick Cannon as guest hosts for Wendy Williams' talk show
Wendy Williams has gone on an indefinite leave from her show, which meant more celebrity guest hosts are coming in to fill her spot. In a new list announced by Wendy herself, she revealed that the likes of Nick Cannon, Keke Palmer, and Sherri Shepherd would be filling in for her this coming week.
THE SHOW GOES ON
Wendy Williams has had a rough couple of months due to her battle with Graves' Disease, that she's had to take a couple of leaves from her show. However, now that it seems the effects of her illness have been affecting her ability to fully-perform her role as a TV host, she's had to take leave to ensure her viewers get the quality work that they deserve.
Of course, Williams did not leave her viewers empty-handed and had had different celebrity hosts filling in for her. Nick Cannon was the first to announce that he will be her guest host from February 4 to 6, and now she revealed that joining him for the first and second week of February are comedian Jason Briggs, Keke Palmer, former co-host of "The View", Sherrie Shepherd, Michael Rapaport, and Jerry O'Connell.
With all of these celebrity hosts coming in, it's safe to say that everything is going on as planned for "The Wendy Williams Show," including its staple segments called "Hot Topics," "Ask Wendy," and celebrity interviews. However, they'll all have to make do without their main host.
THE STRUGGLES OF WENDY WILLIAMS
Although it's business as usual for her show, Wendy Williams seems to have a lot on her plate even without having to worry about her show for a few weeks. She's been out of the spotlight for so long that fans have been waiting to get a glimpse of her. They finally got to see her out and about again, but only to run errands in a CVS branch in Miami. This was her first sighting since announcing her leave from television last December.
During one of her last TV appearances in December, the host seemed to have struggled to speak throughout the entire episode and even stumbled at one point. It was clear that she looked extremely uncomfortable, and had trouble speaking.
In her last show before announcing her hiatus, Wendy acknowledged that she hasn't had her best episodes and that her pain medication is causing these uncomfortable side effects.
Aside from her troubling health complications, Wendy is facing yet another challenge in her life. Numerous reports have stated that Williams is planning to divorce her husband and manager of 21 years, Kevin Hunter because he allegedly impregnated his mistress.
Now that Wendy is taking this well-deserved break to recover from her illness and to fix problems in her personal life, she most definitely does not need to worry as her celebrity friends are gladly filling in for her in the meantime.
Please fill in your e-mail so we can share with you our top stories!