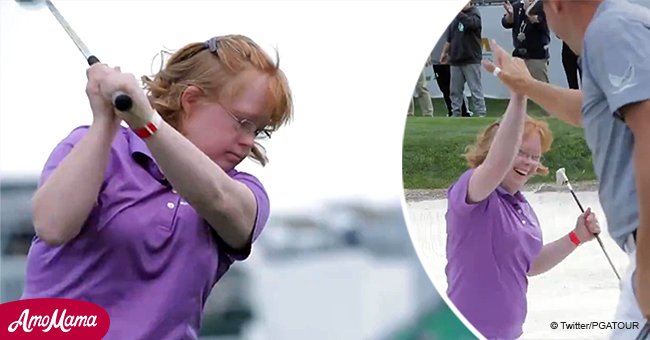 Viral video of girl with Down syndrome helping a golfpro squeezes out 'happy tears' from viewers
Amy, a college student, overwhelmed many as she golfed alongside the seasoned professional player, Gary Woodland.
Nothing warms the heart like a survivor. And Amy Boskerstette did win the hearts of many when she teed off on the 16th hole of the Waste Management Phoenix Open Pro-Am. Gary Woodland, the PGA Tour Phoenix Open defending champion invited Amy, who has Down syndrome, to join him on the TPC Scottsdale stadium course.
Woodland was on a practice course with his playing partner Matt Kuchar when he invited the young girl to join him on the famous 16th hole.
Regardless of her condition, Amy is developing to be a good golfer. While in Sandra Day O'Connor High School in Phoenix, she was the first person with Down syndrome to compete in the Arizona high school state tournament. She also received a scholarship to golf for Paradise Valley Community College, the first with her condition to do so.
So when playing with Woodland, it was apparent why she was able to achieve those feats. Her first shot ended in a bunker on the right side of the course. Her next shot had the ball stopping within 8 feet of the cup. Gary stepped up to help her with the next shot with suggestions. She made the shot and cheers erupted from onlookers, as the ball rolled into the hole, giving her a par.
Amy showed her strong fighting spirit throughout the game. Playing through the course, through to the cheers of fans, she kept on repeating self-affirmative comments. When she walked to the right side bunker after her first shot, she said:
"They love me. Awesome," after she was cheered by the attentive fans.
Also, as she stepped up to take the final shot, Amy said "Okay. I got this", after listening to the professional golfer's suggestions. Videos of the play went viral online and garnered a lot of positive responses.
Before that, Woodland had praised her, calling her an inspiration and a hero. Amy also tweeted:
"Thank you for playing golf with me @GaryWoodland. It was so much fun! And thank you for an awesome day @PGATOUR @WMPhoenixOpen and @SOArizona I LOVED IT!"
The young golfer isn't the only sufferer of Down syndrome that is making waves. 14-year-old Georgia Traebert is fast becoming a well sought after model. She works with five different modeling agencies in Brazil and has acted in some television adverts.
Georgia burst into the limelight when her mother posted the young girl as a 12-year-old on Facebook to boost Georgia's confidence and also to inspire other people with the condition. But the internet took a great liking to the photo, with her mom saying:
"Now jobs have started to appear; she has just made a commercial for a famous brand here in Brazil and also modeled for one of the biggest jewelry designers in Brazil."
Please fill in your e-mail so we can share with you our top stories!