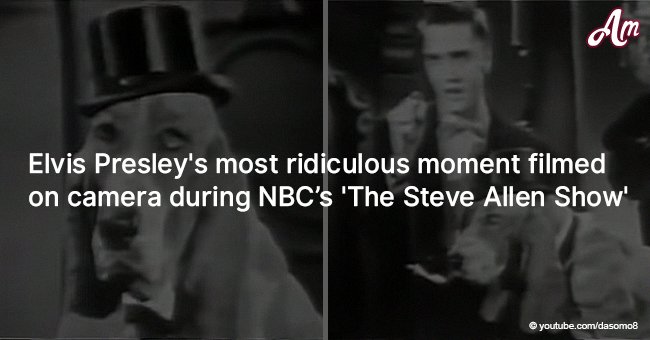 Elvis Presley's most ridiculous moment filmed on camera during NBC's 'The Steve Allen Show'

Steve Allen made a mockery of The King of Rock and Roll as Presley was famously known during his lifetime.
Steve Allen seemed not to be a fan of Elvis Presley, Rock 'n Roll, or maybe he just never liked all that hip shaking vibe that comes with the genre. According to a TV historian, the TV host considered Elvis as talentless and absurd.
So it is no wonder that when he invited the King to make an appearance on his show: The Steve Allen Show in 1956; Steve had an ulterior motive entirely mapped out for the episode.
The show host made Elvis dress up in a black tailcoat, a bow tie, and a top hat; imagine the King in a bow tie! Completely out of character. Allen didn't stop at that; he made Presley sing Hound Dog to an actual basset hound for close to a minute on stage.
It is considered one of Elvis' most embarrassing incidents, and he had a lot of that in the cause of his career.
Elvis who at the time was starting his career and building his way to legend status was already known for his charismatic behavior and resonant voice. He had just released his debut single "Heartbreak Hotel" January of that year. The song then went on to become a number one hit in America.
That same year, November to be precise, the King made his debut in acting. He got a role in the movie; Love Me Tender.
Despite Steve Allen's attempt to ridicule the budding talent, Elvis bounced back from the embarrassing moment. The song Hound Dog was named the tune of all the 500 Greatest Song of All Time by Rolling Stone.
Elvis Presley became one of the most significant cultural icons of the 20th century. His energetic interpretation of songs and sexually provocative manner of performing made him a very controversial artiste and automatically famous.
He had a commercially successful career in several genres: country, blues, pop, and even gospel. He became the best-selling solo artist in the history of recorded music; won three competitive Grammys; received the Grammy Lifetime Achievement Award at age 36 and had been inducted into many music halls of fame.
He died on August 16, 1977, from a heart attack at the age of 42.
Please fill in your e-mail so we can share with you our top stories!