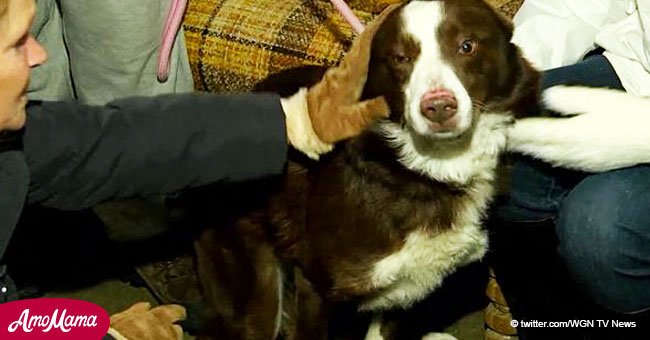 Owner who left dog out in terrible weather amid polar vortex now wants to get the dog back
Due to new Illinois state law, police confiscated a dog named Maverick left outside during the icy polar vortex in Galesburg, and his owner now legally has to fight to get him back.
As the polar vortex moved into the Midwest last week, authorities warned of frigid temperatures, unlike anything the area had seen in over 20 years.
But as everyone took cover, a neighbor noticed that Maverick was left outside and called for help. On Tuesday night, January 29, temperatures including wind chill reached -30F as the neighbor, who asked for anonymity said:
"He's out there 24/7. It doesn't matter. The mailmen aren't even out in this, and for him to have to be?"
According to the neighbor, Maverick gets left outside no matter what the conditions, and neighbors fought for almost three years to help the dog which is said to have "flies in his food, or a water bowl frozen over.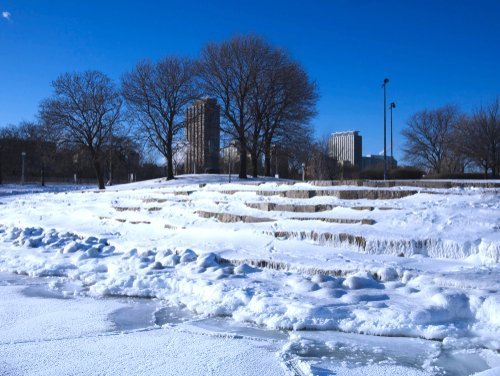 Frozen Lake Michigan during polar vortex in Chicago, Illinois in January 2019. | Photo: Shutterstock
Delighted after police took Maverick, a neighbor
said
:
"They got him! They got him! We don't have to worry. Because we were really, really concerned."
Maverick got taken to the Knox County Humane Society in Galesburg, where he will temporarily stay until a permanent solution is found. Shelter officials describe Maverick as "very loving and very playful," and "deserves a better life than being abused."
Rox Parks, from the Knox County Humane Society board, reminded people that pets are not immune to the extreme temperatures and added:
"If they don't have fresh water and food and a warm house to stay in, they're going to freeze, and it's a terrible death."
While the new law allowed officials to take Maverick into temporary custody, the matter still has to go through legal channels. According to Maverick's owner, the allegations of abuse against him are false, and he intends to get his dog back.
However public outcry urged the Knox County Humane Society not to give Maverick back to his owner, as Rox Parks said:
"We've had a lot of public outcry saying do not give this beautiful dog back to these horrible owners, and we're standing ground on this situation."
Meanwhile, another dog owner, 29-year-old Dang Xiong from Minneapolis, Minnesota, got charged with animal cruelty after he also left his dog chained up outside when the polar vortex swept through.
On Tuesday afternoon as temperatures dropped below -9F, police officers found the shivering dog, chained up with vomit nearby inside an exposed shelter. Charged with the inhumane and unnecessary cruelty, injuring or abuse of an animal, Xiong can be fined with up to $1,000 in Minnesota.
Pets Under Police Scrutiny (PUPS) in Maple Grove, Minnesota, where the dog got taken reminded pet owners:
"If it's too cold for you outside, it's too cold for your them. Like people, cats and dogs are susceptible to frostbite and hypothermia. Please bring them inside!"
The polar vortex, responsible for at least 13 deaths since Tuesday, had temperatures turn at -24F in Minneapolis alone, conditions no pet is equipped to handle.
Ahead of the polar vortex hitting the Midwest, authorities warned that Wednesday could see temperatures colder than Alaska at -7F, as temperatures got expected to drop below -25F. For Chicagoans, it was the first time since 1994 that temperatures dropped below 11F.
In such temperatures, it is hard to believe that anyone can think that their pets would be safe outside.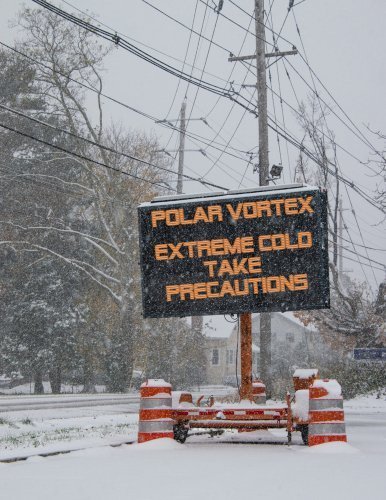 Electric road traffic mobile sign warning of the polar vortex, January 2019. | Photo: Shutterstock
Please fill in your e-mail so we can share with you our top stories!