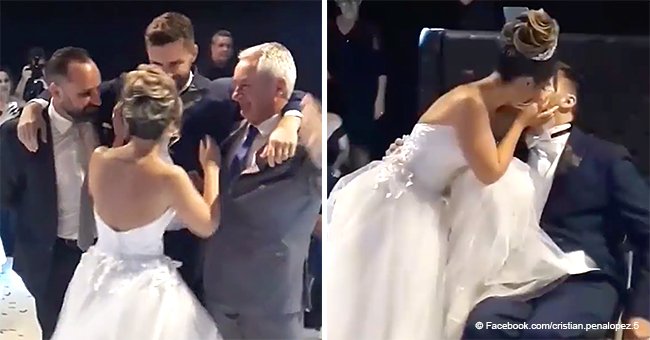 Paralyzed groom went the extra mile for perfect first dance with bride in touching video
A paralyzed groom found a way to make sure he and his bride had the perfect first dance at their wedding ceremony, and footage of the moment is making people tear up all over social media.
Nothing is impossible when it's done with love and the help of friends, and this paralyzed Brazilian groom proved just that by standing on his two feet to give his bride the first dance as newlyweds, leaving their guests and people all over the world drying their happy tears.
Hugo Rohling was left paralyzed from the waist down after a motorbike accident five years ago, but he moved on with life and got to marry makeup artist Cynthia Zanuni last month. The couple wanted their wedding day to be the perfect one, so they hired a choreographer and memorized the steps to their beautiful rendition of Sam Smith's Make It To Me.
Several videos from different angles were shared on Facebook by the guests. In the clips, Hugo and Cynthia start dancing side to side, with the man making some pirouettes on his wheelchair and his gorgeous bride dances around him.
Then, she sits on his lap and kisses him, but the real magic takes place once she stands up again.
Two men surge from the audience, Rohling's father and brother, and they sit on either side of the groom as a third man ties up some velcro straps on their legs. Rohling then wraps an arm around his father and brother's shoulders, and then they all stand up, the two men offering Rohling the necessary support so he can be on his feet for a few seconds, as Cynthia approaches him again.
The bride then rests her head on her husband's chest, as she tries to hide her tears and family and friends cheer for them. They sway for a while to the ballad, the same song Hugo used to propose, and then he's sitting again.
Before letting go, Hugo's father gives him a long-lasting hug, as he smiles on his chair while Cynthia waits on the side.
One of the videos from the moment has gone viral, earned over 65 million views and comments from people all over the world that were touched by the emotional dance.
Cynthia and Hugo hope their special moment can help in highlighting how people with disabilities are just like anyone else and can lead normal lives as long as they have a positive mindset and are surrounded by love.
A similar story took place in Florida in April 2018, when Chris Norton fulfilled his dream of walking down the aisle with his new bride, Emily Summers.
The young couple had a beautiful ceremony surrounded by their loved ones, and after they kissed in time-honored fashion, they started to walk together down the aisle as 200 guests watched with tears in their eyes.
Chris and Emily's walk was a miracle since he had been paralyzed from the neck down in a football accident at the age of nineteen. He doesn't remember the strike that left him crippled, but after arriving at the hospital, doctors discovered he had fractured his C3- C4 vertebrae.
The doctors told him his chances of recovering movement below his neck were a pitiful 3%, but Chris was not going to give up on life so easily.
He started a recovery journey that eventually led him to Emily, and with her help, he was able to walk on his college graduation to get his diploma, and down the aisle on their special day.
Please fill in your e-mail so we can share with you our top stories!