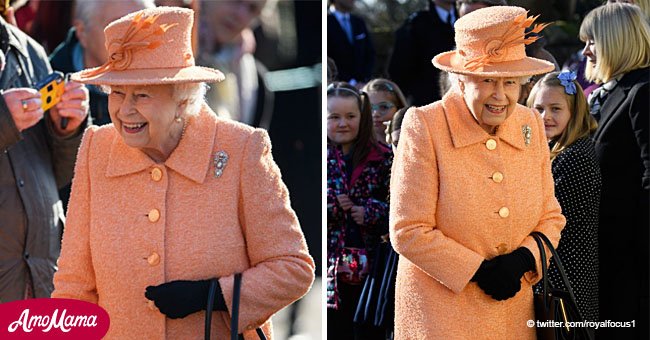 Queen attends church in chic peach coat as she gets ready to celebrate 67 years on the throne

Now that her Christmas break is over, the Monarch will be heading back to London to get ready to celebrate the milestone on February 6. She was photographed as she went to the last church service at Sandringham.
The 92-year-old royal has already broken many records in her long rule, but she keeps achieving milestone after milestone and is only three years short of celebrating her Platinum Jubilee, like no British ruler before.
The Queen's father, King George VI passed away on February 6, 1952, at Sandringham, and this is why she retires to her home there every year to pay tribute to him before her anniversary in the throne comes.
Elizabeth II's last appearance at Norfolk took place on February 3 during a sunny day, as she attended a Sunday service at St. Peter and St. Paul church in West Newton, where she met members of the public and was given flowers.
She chose to wear a peach outfit with matching hat. She wore black gloves and carried a purse in the same color, and was all smiles as she met and greeted hundreds of well-wishers.
In 2015, the Queen became England's longest-reigning monarch, and she was very humble when she acknowledged the fact. "Inevitably, a long life can pass by many milestones. My own is no exception," she said.
Elizabeth II assumed the throne of England when she was only 25 years old. Way before that, she had been fulfilling official duties, and she was always expected to act as a future Queen since the age of 10.
With this responsibility on her shoulders, it is not hard to imagine that she had very few occasions to live something remotely close to a regular, ordinary life.
While the Queen has visited hundreds of countries during her life, all of this trips were official and part of her Royal duties, so she hasn't had the opportunity to experience any of this places freely.
That is why her little-known 1949 trip to Malta is so special for the young Elizabeth, who was there at the time to visit her husband, Prince Philip, who was appointed to a military mission over there.
Still not a Queen, Elizabeth was allowed to stay off the restrictions and behavior codes she had to observe in more official settings, so she didn't miss the chance to have a taste of ordinary life.
"When she flew to visit Prince Philip in Malta, she saw and experienced for the first time the life of an ordinary girl not living in a palace," author Kitty Kelley wrote in her new book "The Royals," as quoted by Express.
"Putting her into the Viking when she left was I thought rather like putting a bird back into a very small cage and I felt sad and nearly tearful myself," Lady Mountbatten allegedly wrote about Elizabeth in a letter at the time.
During her many travels, the Queen has also met a great number of people, and while it would be impossible for her to remember all of them, nobody forgets their exchange with such a personality, however brief it might have been.
On The Duke and Duchess of Sussex's first Royal Tour since they became husband and wife, Prince Harry, the Queen's grandson, met an 86-year-old woman from Fiji who served tea to the Queen on her 1953 trip to the country.
The woman, named Litiana Vulaca, used to work at a school that received the recently appointed Queen during her visit, and Vulaca had the duty of serving tea to her, something for which she had to learn the protocol.
Vulaca caught the attention of Prince Harry 65 years later, and he spent a few minutes talking to her, who had a big and proud smile on her face.
Please fill in your e-mail so we can share with you our top stories!