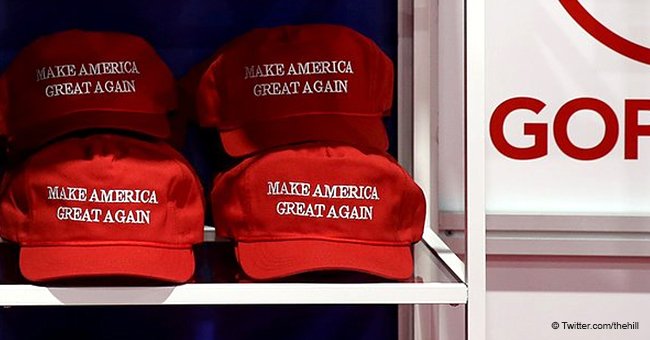 California restaurant owner refuses to service customers wearing MAGA hats
A Californian restaurant owner and award-winning author caused an online controversy after he decided not to serve customers sporting the "Make America Great Again" hats.
They started out as a symbol that was perhaps meant to unify Americans across the nation with its four-letter slogan – "Make America Great Again." But the red "MAGA" caps that were introduced during Trump's presidential campaign have been more divisive than unifying.
There are those who wear them as a sign of patriotism and show of outward support for the president. Then there are others who view it as a reminder of the hate and patriotism that they think they see in Trump.
These two schools of thought became apparent – and even more polarizing – in early January when Native American elder Nathan Philips faced down a group of "MAGA"-hat wearing teenage boys while on the steps of the Lincoln Memorial.
After the incident, actress Alyssa Milano tweeted that "the red MAGA hat is the new white hood," and refused to apologize for her comment. Chef J. Kenji López-Alt of the Wursthall Restaurant & Bierhaus in San Mateo, San Francisco seemed to agree with Alyssa as he made incendiary statements with his tweet that has now been deleted.
"It hasn't happened yet, but if you come to my restaurant wearing a MAGA cap, you aren't getting served, same as if you come in wearing a swastika, white hood, or any other symbol of intolerance and hate," said López-Alt.
He didn't stop there. "MAGA hats are like white hoods except stupider because you can see exactly hwo is wearing them," said the chef in a separate tweet that has also been deleted.
San Francisco Chronicle reported that López-Alt's online proclamations were met with mixed feelings by his patrons. Diner Jamie Hwang didn't entirely agree with the restauranteur, because she felt that someone should not be judged entirely at face value just because they're in a "MAGA" hat. Bryan Agbayani didn't like López-Alt's stance because he felt that it could possibly alienate potential customers, and that's not good for business.
López-Alt would live to regret his words. The San Francisco Eater revealed that the chef declined to further comment on the issue after his business reportedly received threats. He went a step further and issued an apology on Medium.
"Making a public statement without taking my team's thoughts into consideration was disrespectful and reckless," admitted López-Alt in his apology. "My personal perspective in no way meant that Wursthall was changing its policy," he clarified.
Maybe if he was in Manhattan, things might have turned out differently.
According to the New York Post, in April of last year, a Philadelphia accountant was kicked out of a bar for wearing a "MAGA" cap. He sued The Happiest Hour bar, alleging that being kicked out "offended his sense of being an American."
The judge ruled against him, stating that there's nothing wrong with throwing "MAGA"-wearing clientele out of bars because the law doesn't protect against political discrimination.
Was López-Alt correct in his way of thinking? That is arguable. In any case, he is entitled to his opinion. However, one thing that stands out in all this is that life is definitely miserable for all the plain red-hat loving folks out there.
Please fill in your e-mail so we can share with you our top stories!