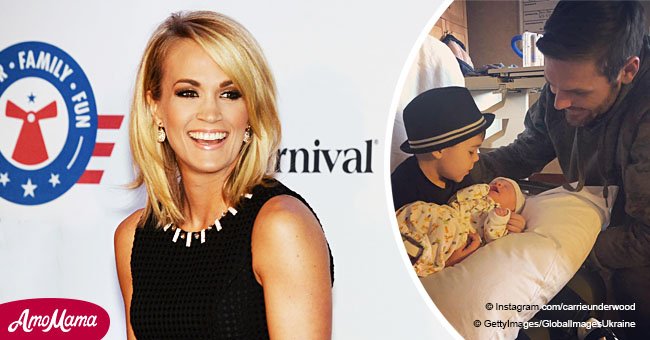 Carrie Underwood saw 'miracles' in her older son Isaiah's actions after her second child's birth
Carrie Underwood is a country singer known best for her hit songs "Before He Cheats" and "Jesus Take The Wheel." She and ice hockey player Mike Fisher have been married since 2010 and have two boys together.
Their first son, Isaiah, was born in February 2015 and is now three years old. They recently welcomed their second son into the family in January this year. His name is Jacob.
Having two small children in the house can be a challenge at times, but Carrie recently shared that she is not too worried about that.
JACOB AND ISAIAH
Carrie's friend, Cara Clark recently posted a text post on Instagram relating to parenting, which Carrie commented on.
In her comment, Carrie showed how proud she is of Isaiah for stepping up as a big brother while she and Mike are getting used to having a newborn in the family again.
The example she gave is that he changed the toilet paper roll in the bathroom without being asked to do so. She said that she felt lucky to have him as a son.
Cara was amazed that Isaiah was so advanced for a three-year-old. She then jokingly asked Carrie what her secret is.
BRAD'S JOKE
In November last year, Carrie and fellow country singer Brad Paisley hosted the Country Music Awards.
When the awards took place, Carrie was heavily pregnant, and Brad helped her to do a gender reveal during one of their segments.
Brad pulled it off by teasing Carrie about what her baby's name would be and eventually got her to admit that she was pregnant with a boy, despite her initial attempts to keep it a secret.
FIRST LOOK
As many people know, Carrie Underwood gave birth to her second son on January 21. However, she only shared the first photograph of him online on January 23.
In the photograph, her eldest son is holding the newborn boy while their father looks on. The sweet and wholesome picture was heartwarming for Carrie's followers to see.
In the caption, she expresses how happy she and her family are to receive their new addition. She was tired post-pregnancy but looking forward to the future and feeling content.
Please fill in your e-mail so we can share with you our top stories!