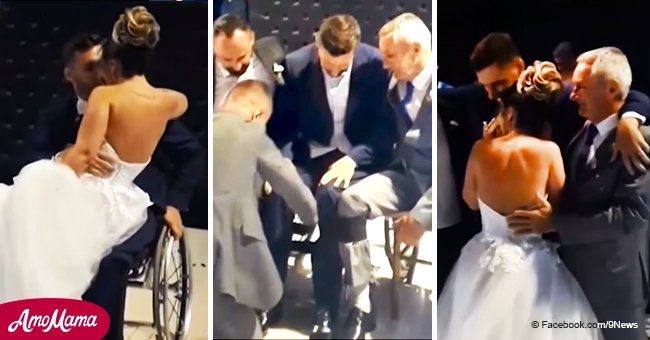 Paralyzed groom performs emotional wedding dance with help from his brother and dad

What a beautiful sight to behold! Thanks to his wonderful family, paralyzed groom was able to fulfill his groom duties to the fullest.
Cinthia Zanuni, a social media influencer and make-up artist, and her partner, Hugo Rohling brought tears to everyone's eyes as they awed their guests with a fantastic dance. Rohling's father and brother became his legs as he danced with his thrilled bride on their wedding day.
As seen in a Facebook video, Hugo, while sitting on a wheelchair, carried Zanuni on his laps as they kissed affectionately. A few seconds later, the bride got up, and the most beautiful thing happened.
The groom's father and brother approached him standing shoulder-to-shoulder with another man who went on his knees to strap their legs together. Once the man was done securing their legs, the three rose up in unison. Rohling supported himself by placing his arms on their shoulders.
Cinthia, who could now look at him eye-to-eye, moved closer; placed her head on his chest and arms around his neck. The lovebirds swayed to Sam Smith's 'Make It To Me' as the teary-eyed audience cheered.
For a moment, every other person on the dance floor became invisible, and it felt like the world was gazing at the beautiful couple; it was a magical moment! The bride looked up at her new husband lovingly as they moved to the rhythm of the ballad. The sweet moment ended with a kiss.
Rohling wasn't born paralyzed. According to a report by InspireMore, the young man was involved in a motorbike accident five years ago, and that unfortunate event left him deadened from his waist downward.The footage from the wedding is one of the most shared videos ever since it's debut on the internet.
Daily Mail says that over sixty-four million users have viewed the clip. A friend of the couple, Marcelo Henrique da Silva shared the emotional wedding video online as well as "The Late Night Show" host James Corden. Corden wrote under his tweet:
"Oh my god. This is the most beautiful thing I've seen today x."
Cinthia and Hugo are indeed one of the most adorable and lovely couples out there.
Please fill in your e-mail so we can share with you our top stories!