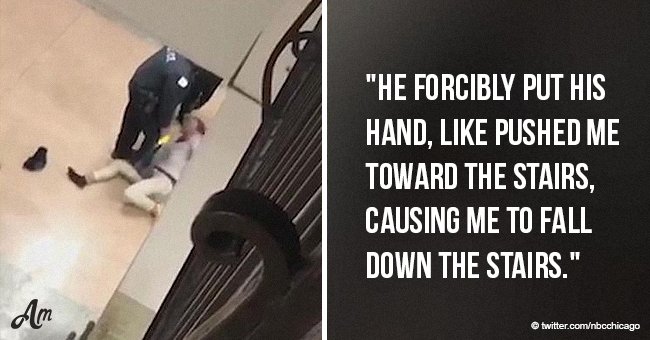 High school student accused of attacking 2 police officers tells her side of the story
A teenage girl who was accused of attacking two police officers has come out to say they struck her first with excessive force and the policemen officers used a taser on her.
In an interview the Marshall High School student; Dnigma Howard and her father who witnessed the incident said the police could have handled the situation differently.
A video captured on the phone of another student shows Howard and a policeman falling down the stairs when they were trying to take her out of the premises. According to the teenager, the officer;
"forcibly put his hand, like pushed me towards the stairs, causing me to fall down the stairs."
And she reacted by pulling his vests.
In the clip, the 16-year-old is seen hitting the men in uniform. The police department also says she punched them, sending both officers to the hospital with injuries.
Howard also had visible injuries on her and had to go to the hospital. She described the incident as embarrassing. The whole issue started when Dnigma refused to give her phone to the school's assistant principal.
She claims that if the police had handcuffed her and taken her out immediately, she would not have resisted arrest. Instead, they tasered her and pushed her down the stairs.
The police department has a vague policy on the use of tasers on students. They can use it on an individual resisting arrest to gain control of the situation. Howard is facing two felony counts of aggravated battery.
Her father who had to watch the assault on his daughter said he would fight the charges and ensure that the Chicago Police Department are held responsible.
Police brutality is becoming very rampant. Another video which sufficed recently shows police officers, trying to yank a 1-year-old baby from the mother's hand.
They were trying to arrest the mother at a food stamp office in Brooklyn. Ms. Headley could be seen on the floor shouting;
"They're hurting my son! They're hurting my son!"
The clip generated a lot of reactions on social media, with so many people wondering what could have happened to warrant such treatment to a mother and child.
Another case is that of a police officer who pushed a student with his baton then taunted her with his stun gun while asking the student:
"You want to ride the lightning?"
He is now facing disciplinary charges.
The police have been known to protect, but a percentage of them abuse their powers and end up causing a lot of pain and damage to unknowing civilians.
Please fill in your e-mail so we can share with you our top stories!