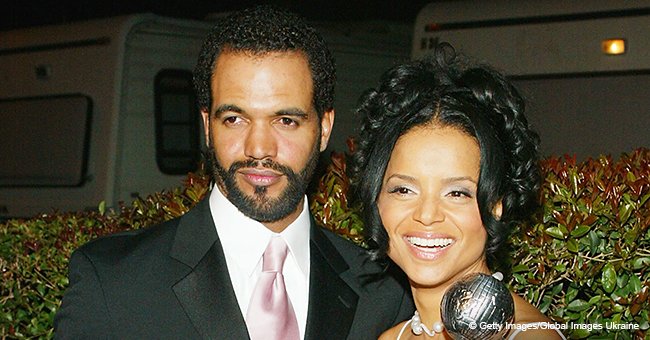 Victoria Rowell breaks silence on Kristoff St. John's death, blasts soap executives for racism

Kristoff St. John had issues with his television bosses according to his co-star Victoria Rowell who opened up about them after the actor's death.
Kristoff St. John's sudden passing brought on a wave of interest surrounding his death and the life he left behind. But a recent interview with his co-star Victoria Rowell seemed to invite controversy when she suggested that she and St. John were victims of racism on their show.
DAYTIME TELEVISION'S BLACK POWER COUPLE
Rowell and St. John were more popularly known in the daytime soap "The Young and The Restless" as Black power couple Neil and Drucilla Winters who heated up the screens during their time together from 1993-1998 and 2003-2007. When Rowell's character died and she left the show, she and St. John remained close as Rowell now reveals to The Grio that they shared a common bond linked to the issue of racism.
ON ST. JOHN'S VISION FOR THE SHOW
Rowell, who mourned the loss of her co-star and described him as "a joy" disclosed that St. John was a man who "always sought to do more."
"He wanted to write for 'Y&R.' He was a filmmaker. He wished he could have done more."
Rowell also revealed that she and St. John advocated for their reunion on their show but their efforts proved fruitless. She said the reason their request was denied was due to their being vocal about wanting more diversity on the show.
"It was a crime that SONY and CBS did not honor our request to be reunited on the show for the sake of the fans and each other. They denied us that because we spoke out on lack of diversity behind the camera. They punished us."
She added,
"If we were a white couple with this level of popularity, this denial never would have happened. In my opinion, and Kristoff agreed, the powers that be at SONY could not bear to see an African American leading actor and actress pull up the ratings. Though counter-intuitive to business; that is what racism looks like."
ON BEING REJECTED
Though she said she didn't want to elaborate on "confidential matters" they discussed, she revealed a time when St. John confided in her about pitching stories to the network and they were rejected.
"It pained him that after more than 25 years, he was still being rejected in this way. As a confidant, there are things I won't share, but everyone in the corporate strata could have done better by him."
Rowell believes despite her and St. John's star power, they were ultimately still being controlled by their bosses.
"What we're talking about is repeated diminishment of talent value. It's called control. We knew our power though we were led to believe that we were powerless. Kristoff never bought into that."
ROWELL'S TWEET AFTER ST. JOHN'S DEATH
Following news of St. John's death, Rowell was one of many celebrities and co-stars who mourned his death and paid tribute to him on social media. Rowell wrote "ETERNALLY I love you" along with the revelation that St. John "never stopped requesting" for them to be reunited on the show but was "denied for a decade."
She also shared a series of photos remembering their moments together.
ST. JOHN'S FINAL MOMENTS
St. John was discovered lifeless in his home on February 3. He is suspected to have died of alcohol overdose though his actual cause of death has not yet been confirmed.
The 52-year-old actor had been battling mental illness for years stemming from the death of his son Julian who took his life in 2014. Prior to his death, St. John sought help at a mental facility to treat his depression. It appeared he was still grieving for his son at the time of his death as his last tweet on January 21 spoke of this.
St. John's final episode on "The Young and the Restless" will be aired on February 6. A special tribute will also be featured on February 8.
Please fill in your e-mail so we can share with you our top stories!