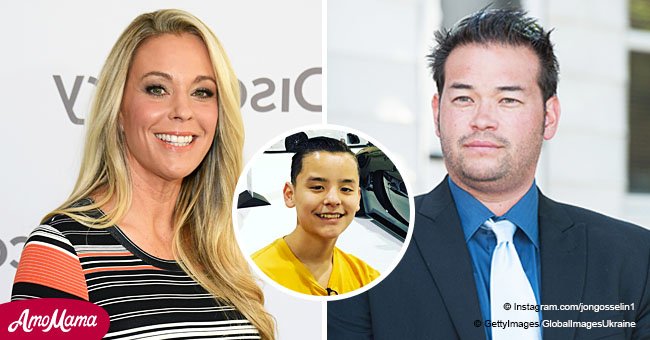 Jon Gosselin reportedly slams ex-wife Kate over son Collin
Since losing custody of her son Collin, Kate Gosselin supposedly spends no time with him according to former husband Jon.
Jon Gosselin reportedly made a comment implying that his ex-wife Kate Gosselin has made no attempt at seeing her son Collin.
According to US Magazine, Jon indicated this underneath his Instagram post featuring him and his son on Monday. The photo is found below.
Jon shared a picture of him holding onto 14-year-old Collin as they stood in front of a large monster truck.
He captioned it:
"Great weekend with Collin and Colleen. Philly Auto Show and The beach!!!!"
Jon, 41, was the star of the former hit TLC series "Jon and Kate plus eight" until the couple got divorced in 2009. Since then, the two have had a lot of conflict between them.
Kate attained full custody of all sextuplets after the divorce: Collin, Hannah, Leah, Alexis, Joel and Aaden as well as twins Mady and Cara, 18.
It was only in December that Jon got sole custody of Collin when Kate was absent for a hearing.
Upon sharing the photo, one user allegedly said:
"He looks great! I do wonder though why Kate never shares pictures of him as if she never even sees or spends time with him. You're a great dad!"
In response to that, Jon simply wrote: "ZERO."
Jon also houses daughter Hanna, who was noticeably absent from the photographs of the Philly Auto Show as well as a beach outing over the weekend.
They did, however, comment on how happy Collin looked in the pictures.
Mother Kate, 43, claimed that the teenager had behavioral issues back in 2016. At the time, she also enrolled him into a "special needs" children facility.
Toward the end of December 2018, Jon addressed questions from a fan about Collin's alleged condition.
He said:
"He is not on any spectrum or special needs."
Whether or not Collin has a condition remains unknown and unproven. Regardless, it's great to see the young boy enjoying his time with his father.
Please fill in your e-mail so we can share with you our top stories!