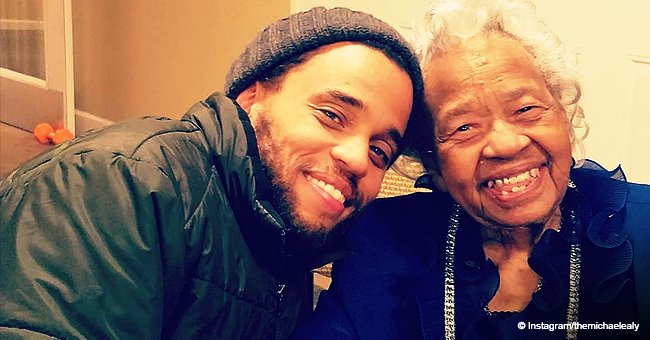 Michael Ealy glows with happiness in photo with his aunt Hattie on her 100th birthday
Michael Ealy is a very private guy who prefers to keep his family out of the spotlight. However, the "Being Mary Jane" star recently made an exception to celebrate a significant milestone on his dear aunt's life. The lady turned 100-year-old, and Ealy couldn't let the occasion pass.
Ealy, famous for his charming looks, deep stare and mysterious personality, took to Instagram to share an adorable pic with his aunt Hattie, and both of them radiate pure joy.
Wearing a padded black jacket and a beanie, Michael held the lady's hands, as both smiled brightly to the camera. Mrs. Hattie, on the other hand, rocked a ruffled dark blue blouse with a silver necklace on top.
Michael captioned the pic:
"Please send love and blessed birthday wishes to the family prankster in chief, the best card giver, and the maker of the best peach cobbler!!! My love, my heart, my Aunt Hattie!! She turns [100] years young today!! #wonthedoit."
Fans of the green-eyed star took over the comment section to send their best wishes for Mrs. Hattie, with most agreeing that the lady looks stunning and doesn't look 100.
"It has to be that beautiful smile that has aged her so gracefully!" wrote one fan. Another added, "She looks amazing. A true woman of God," and a third one agreed, "Wow, she does not look her age at all. What a blessing."
It's rare for Ealy to share such personal pics on social media, since the 45-year-old prefers to keep his family, including his wife, Khatira Rafiqzada, and their two kids, out of the spotlight.
He tied the knot with Rafiqzada in October 2012 and managed to keep the relationship and marriage a secret until December of the same year.
Two years later, he begrudgingly admitted to Wendy Williams that he had a son named Elijah, and even though is known he welcomed a daughter in late 2016, he has only shared one pic of the girl and hasn't revealed her name yet.
"I don't put everything out on social media. I don't live that reality lifestyle," he told Williams.
"At the same time, I've always been private, ever since I was in high school. Like, people think, 'Oh, you're in Hollywood,' I'm like, 'No, no.' If you knew me in high school, you knew. I learned then, if you want something to work, if it means that much to you, keep it to yourself."
Ealy is currently working on several projects, including the film "The Intruder," with Meagan Good, which is set to be released this year. He will also be reprising his role as Justin Talbot in the two-hour finale movie of BET's "Being Mary Jane," next to Gabrielle Union.
Please fill in your e-mail so we can share with you our top stories!