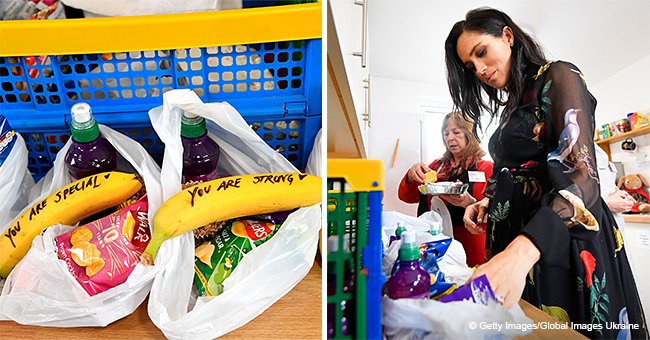 Meghan Markle writes 'banana messages' for sex workers and one person found it offensive

Duchess Meghan Markle sent "banana messages" for sex workers. One person found the gesture extremely offensive.
The Duchess of Sussex visited the Bristol's One25. The charity provides support and resources for women who feel trapped in street sex work, addiction, homelessness, and other issues.
Meghan Markle decided to share messages with the women the organization helps. The creative duchess decided to write messages on bananas instead of paper.
While volunteering with the organization Meghan helped put together care packages with food. She took inspiration from a school cafeteria worker in the U.S. who wrote motivational messages to children on bananas.
"I saw this project this woman had started somewhere in the States on a school lunch program," Meghan told reporters. "On each of the bananas, she wrote an affirmation, to make the kids feel really, like, empowered. It was the most incredible idea – this small gesture."
The fun duchess decided to follow suit. She grabbed a marker, and said, "I am in charge of the banana messaging."
Some of the messages included, "You are special," "You are strong," "You are brave" and "You are loved." She added a heart at the end of each message.
"That really touched me — and I'm not even a royalist," One25 CEO Anna Smith told reporters. "She had clearly listened and heard what we are all about — that we don't judge, we simply offer the service and unconditional love. She totally got it."
While the Duchess' intentions were pure and received tons of positive feedback. One sex worker who was receiving one of the donations and heard about Markle's plan.
She decided to speak out and saying:
"[It's] really stupid. People out here struggle to eat and sleep and she gifts us some words on a piece of fruit. She has the means to help us more than that. It's offensive, you know."
Another sex worker immediately his back against the unnamed woman saying,
"It's so cold right now, it's a struggle to raise money to get a bed for the night, so any food and bedding is a big help. I think it's great Meghan is supporting them. It is really sweet."
Please fill in your e-mail so we can share with you our top stories!