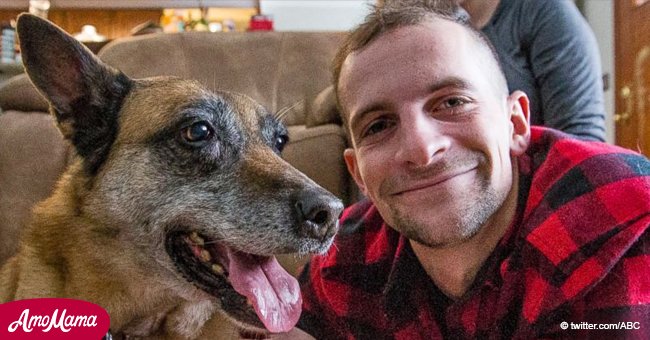 Heartfelt story: Army veteran reunited with a bomb-sniffing dog he served with in Afghanistan
Army veteran finally reunites with a bomb-sniffing dog who was an intrinsic part of his team in Afghanistan. The military dog handler waited several years for this big day.
"Dogs are the worst pets," said no one ever. A non-negligible number of people believe that dogs are the most loyal pets one can ever keep.
Asides their loyalty as a pet, some people keep dogs for the sake of security while some others keep them just because they want to have them around.
It's okay to say that Joseph Steenbeke falls in the last category. But he didn't want just any dog; he wanted his old buddy.
A recent Twitter post reads:
'Last year, I got a remarkable letter from a veteran's wife asking for help. Today I celebrated with them after Joe Steenbeke was finally reunited with Tess, the bomb-sniffing dog he served with in Afghanistan.'
The above words, accompanied by a sweet picture, were written by Jackie Walorski, a Congresswoman for the United States.
As her tweet implies, Walorski felicitates with Joseph Steenbeke, a former Army Tactical Explosive Detector Dog (TEDD) handler and his wife.
Steenbeke has just reunited with his favorite Belgian Malinois; all thanks to his wife and the Congresswoman.
The Indiana veteran has spent the past five years trying to make the now-retired dog, Tess, a part of his family.
Tess, with the code name Tess R533, served with Steenbeke for about one year before he (Tess) was converted to a PEDD - Patrol Explosive Detector Dog.
Throughout Steenbeke's time in Afghanistan, Tess never really left his side. The A-Team survived the war together, but they went separate ways afterwards.
Tess was sent to Connecticut upon his re-assignment as a Patrol dog.
The 28-year-old soldier got only a few minutes to bid farewell to Tess, and that could be a part of the reason his heart lingered. Tess served with the Connecticut National Guard ever since until his retirement in January.
CBS Indianapolis reported that Steenbeke had tried nearly everything to be with Tess again.
According to the South Bend Tribune, the military dog handler said that his PTSD wouldn't go, and he was 'constantly going through a huge emotional roller coaster' without Tess around him.
With high hopes, Steenbeke and his wife filed adoption papers to own Tess once she retired. Come January 23; the couple became the official owner of the dog.
After picking up their new family member in Connecticut, the couple returned to their home in Northern Indiana.
Steenbeke also told the South Bend Tribune that Tess, now 11 years old, has 'worked so hard her entire life; now she gets to sit back and have fun and live like an eccentric billionaire.'
Please fill in your e-mail so we can share with you our top stories!