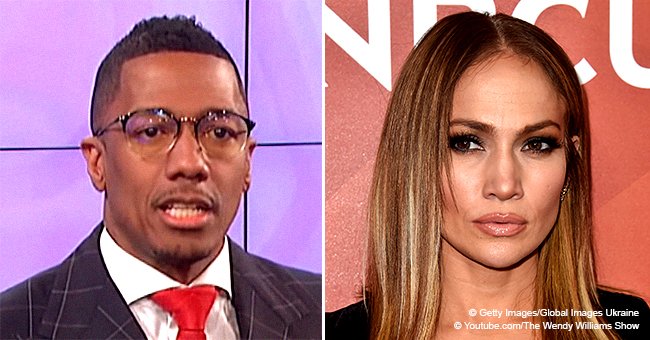 Nick Cannon shades ex Mariah Carey's rival Jennifer Lopez after revealing his top 3 women crushes

Nick Cannon borrowed a line from his ex-wife Mariah Carey yesterday when he threw shade at her alleged rival, Jennifer Lopez on "The Wendy Williams Show."
Cannon, 38, has been filling in for Wendy Williams. The TV host has been away since December for health reasons, and Cannon was scheduled to guest host from February 4-6.
During Wednesday's episode, Cannon kicked off with the alleged romance between SNL comedian Pete Davidson, 25, and British actress, Kate Beckinsale, 45.
"That was a joke for the lambs! Shoutout to the lambs!" ~ Nick Cannon
The "Wild 'N' Out" creator took credit for the relationship, claiming that he told Davidson to go for older women and leave the "little pop stars" alone, a not-so-subtle dig at the comic's ex, Ariana Grande.
Cannon proceeded to back up his theory by listing his three women crushes. Top of the list was Carey, 48, with whom he shares seven-year-old twins, Moroccan and Monroe.
"My top three: No. 1, Mariah. The amazing mother, superstar singer," he said. "No. 2: Halle Berry. I'm still working on it. …I still got some tattoo space. No. 3: Yesterday, I heard she was dating. Naomi Campbell. That's what you want. Them is women!"
A producer then asked Cannon if Jennifer Lopez would make it to the list and Cannon replied:
"I don't know her."
"That was a joke for the lambs! Shoutout to the lambs!" he added, referring to the name Carey calls her fans.
It was Carey who first popularized the infamous "I don't know her" phrase in the early 2000s when she said it in response to a question about Lopez. The clip and phrase have since become a viral meme, and Cannon probably thought to tap into that with some humor.
Meanwhile, on Monday, the atmosphere on the show was slightly different as the "Drumline" actor gave fans an update on Wendy Williams' health complications.
Williams, 54, has Graves Diseases and her family announced that she'd be spending significant time in the hospital for treatment of complications arising from the ailment.
"When I spoke to her she just said she feels y'all love; you know what I mean? And she knows that there's probably a lot of questions that haven't been answered and stuff," Cannon shared. "But as someone who also deals with an autoimmune condition -- I was diagnosed with lupus before -- I know when you go through these things and these flair-ups and stuff, you never know."
"It's day by day, y'all. You know, you one day could be a strong day and the next day you can't even get out of bed," he added.
Please fill in your e-mail so we can share with you our top stories!