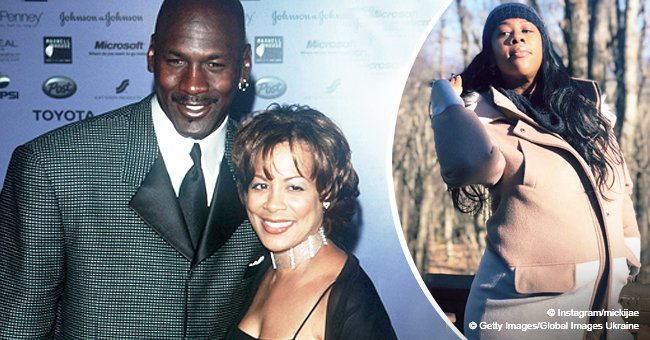 Michael Jordan & ex Juanita's daughter reveals she's pregnant & flaunts baby bump in adorable pics
Basketball legend Michael Jordan's daughter, Jasmine, announced recently that she and her fiancé are expecting a baby. She's also been showing off her growing bump in some adorable pictures on social media.
Jasmine Mickael Jordan, 26, is positively glowing in new pictures as she awaits the arrival of her first child with her partner, basketball player Rakeem Christmas.
Jasmine announced last Christmas that she and Rakeem Christmas, 27, were expecting a baby. The expectant mom shared photos of a wrapped gift with the label "Baby Christmas" and another picture of a sonogram.
"Our Santa Baby," she wrote. "#MerryChristmasEveryone #DeckTheHallsWereHavingABaby #TheChristmas'"
Since then, the soon-to-be mom has been updating her nearly 70,000 followers with images of her growing bump and undeniable pregnancy glow.
Jasmine reportedly came out as a lesbian in 2013, posting loved-up pictures with her then-girlfriend
On New Years' Eve, Jasmine displayed her bump in a pink "someone's been naughty" Santa shirt and penned a touching note to her unborn child.
The message read in part:
"To our bundle of joy, 2019 is YOUR year. It's the newest chapter to a book that Rakeem and I are writing together. A book that began in 2011 as friends and blossomed into genuine love. You are a creation of our love.

You'll learn so much about us, about love, about faith, about strength, about life as a whole as we raise you. Just know that 2019 has already become my favorite year for the mere fact that becoming your mom will give me the greatest purpose in life."
A few days back, Jasmine was also pictured in a thick woolly jacket and beanie, and only hours ago, she posted a photo taken by her fiancé where her bump was even more pronounced in a green sweater.
"Pure devastation in my eyes when I realized we ate all the mango salsa... I cried," Jasmine captioned the post.
Rakeem and Jasmine, who met at Syracuse University, got engaged in June and the excited bride-to-be shared pictures of her dazzling ring on social media.
There are unconfirmed speculations that the couple may have wedded secretly because Jasmine referred to them as "Mr. & Mrs. Christmas" earlier in December.
Jasmine reportedly came out as a lesbian in 2013, posting loved-up pictures with her then-girlfriend and telling the world she doesn't care what anyone thinks.
In 2016, however, she reportedly posted pictures of her new love interest, this time a man.
Jasmine is the first daughter of Michael and his ex-wife, Juanita Vanoy. She has two older brothers, Jeffrey, 30, and Marcus, 28.
The living NBA legend also has twin daughters Victoria and Ysabel with his current spouse, Yvette Prieto. The twins will be five years old on February 9.
Please fill in your e-mail so we can share with you our top stories!