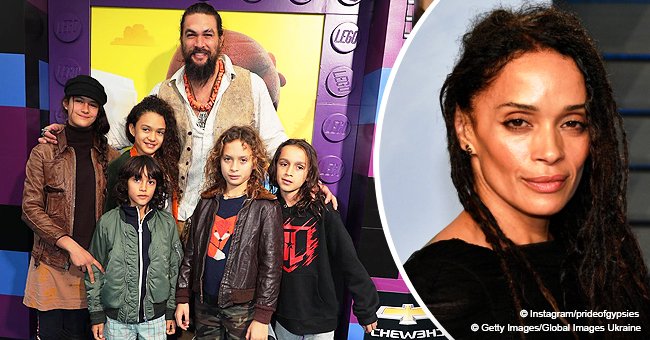 Lisa Bonet's husband Jason Momoa is on daddy duty as he takes his kids to the movies
Jason Momoa is the coolest dad. Not only does he play Aquaman in the DC universe, but also gave his voice to the character on the new Lego movie. The handsome actor attended the premiere of the film with his two kids in tow, melting his fans' hearts while on daddy duty.
Jason Momoa might look like a rough and wild man because of his burly complexion, but when it comes to his kids, the actor has proven he's a sensitive father who only wants what's best for his children.
And being the cool dad that he is, Momoa recently attended the premiere of "The Lego Movie 2: The Second Part" at the Regency Village Theatre in Los Angeles, California, alongside his two kids: daughter Lola Iolani, and son Nakoa-Wolf. They were accompanied by three other kids, probably from Jason's family.
Momoa looked handsome as usual, wearing a long-sleeve white shirt, khaki pants, vest, and brown boots. He added the bohemian touch to his outfit with a big Scorpio pendant and an orange stone necklace and tied his long locks into a low bun.
The "Game of Thrones" star took to Instagram to share some pics from the premiere, posing with his kids and the cast of the animated movie, which includes: Chris Pratt, Tiffany Haddish, and Will Arnett.
Jason captioned the post:
"Super thankful to have a small part in this awesome movie. Really stoked I got to take my ohana to see The LEGO Movie 2 It's in theaters on February 8th."
Momoa shares his kids with wife Lisa Bonet, with whom he officially tied the knot in 2017 after being together for 12 years.
Being a father, he says, is a dream come true.
"My kids are my greatest piece of art," he told Men's Health. "It's beautiful. I want it to be the greatest thing I ever do: make good humans."
"I really can't tell you what the hell I was doing before I had kids," he explained, adding that before he became a dad, he was reckless and out of control. "I probably love myself more and take care of myself more because I want to stick around."
By taking care of himself, Momoa means taking risks and becoming one with nature. He enjoys any outdoor activity, and his "feral kids" as he refers to Lola and Nakoa, inherited Jason's passion for being outside, climbing, camping, swimming, dancing and sharing time with their family.
"Climbing made me face my fears and my doubts, explore the impossible, problem solve through movement. I learned to trust my hands, find my feet. I found balance," Momoa explained in his documentary, "Canvas of My Life." And added:
"If I teach them [his kids] how to climb, they can push themselves to the limits, gracefully move through fear and doubt."
Just a few months ago, Momoa shared on Instagram some clips of his kids conquering rocks and climbing to the top without any further assistance.
Lola, 11, climbed a tall rock with her bare hands and feet and without any harness on sight. She showed she has her dad's spirit, getting to the top without a problem to scream "Where's my ice cream?" while her father and company clapped for her.
In another clip, Nakoa is seen trying to win the top of another rock as Jason and a climbing coach encourage him to keep going even though the boy was visibly exhausted. In the end, just like his sister, Nakoa conquered the task and received a proud high five from his dad.
Jason's role as a father has fulfilled his life, and he's always making sure to share the love for his kids with the world.
Please fill in your e-mail so we can share with you our top stories!