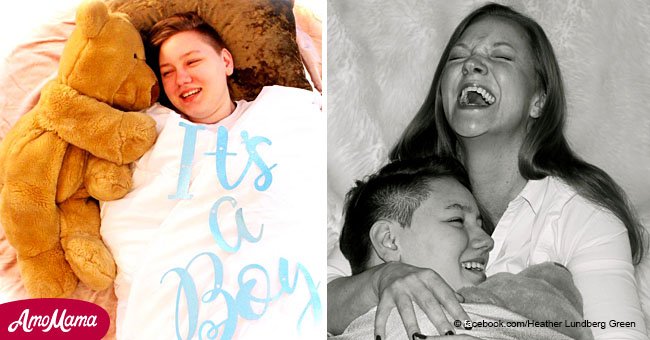 Mom jubilantly celebrates son coming out as transgender with an epic gender reveal photoshoot

With so much pride and joy, Heather Green, a Kentucky based mother of two went all the way to show support for her transgender son; such a beautiful story of a mother's love for her child.
In a world where it's become harder to be oneself because of hateful comments and backlash; this mom had shown that appreciating a child can make all the difference.
Adrian Brown was clocking 20; this was after coming out to his mom and younger brother, Lucas last September about his transgender journey. Heather thought of how to celebrate her son's revelation, and she came up with this beautiful idea.
She decided to throw him a coming out photo shoot.
In one of the posts, the proud mother wrote:
"When your child comes out as trans, the best thing to do is create a photo shoot to celebrate the fact that he silently and bravely stepped out of the race that he never wanted to be in, found his own lane and proceeded to win."
Green decided to go extra with the shoot; she had a baby-boy reveal themed photo session with her sons. There were blue balloons with the words "It's a boy" written on them. The mum also carried a fake pregnancy which all indicates that a new son is joining the family.
The post has since garnered a lot of reactions on social media. On how important it is to share our love with the transgender community, Heather said:
"How could we not!!?? The transgender community is under attack by our president for goodness sake. These people who are transitioning are not receiving the honor and praise that they are due."
Not only did this act melt her children's hearts, but it'd also helped other mothers who seemed clueless as to what to do about situations like this. According to the American Academy of Pediatrics, close to half of the female to male transgender in the trans community commit suicide.
This survey is not only disheartening; it is also a cry for help. It shows that more love and empathy needs to be exercised towards people whose journey through life may be different from ours. And that is what Heather Green's message portrayed; that no matter what, she'll choose love first. Although the 20-year-old transgender found his mothers idea of a shoot a bit weird from the onset, he later admitted it was thoughtful and fun.
His brother Lucas saw the whole thing differently; to him, it was a way of helping others. Since the shoot, more people have had the courage to come out to their loved ones.
Heather said she'd been summoned for advice by other mothers who are going through the same journey with their kids. Although she has little experience herself, Green had this to say:
"I've had some great conversations and I hope that they will continue, no one should have to feel alone on this journey. Everyone has to transition, the individual and their friends and families."
Another mum who is also an advocate for the LGBTQ community, Vanessa Nichols shared on her blog some ridiculous comments she gets from people about being a trans mom. One is that she made her kids transgender which she had since corrected " no one can make their kids become a transgender."
Please fill in your e-mail so we can share with you our top stories!