Man who broke into a lingerie store to attack a Barack Obama mannequin faces criminal charges
A disgruntled Trump supporter vandalized a lingerie store because the Barack Obama mannequin "was giving him bad looks."
41-year-old Rewell Altunaga got caught on a surveillance camera shattering the window at a "Romantic Depot" store in Manhattan before he pulled out a mannequin resembling Barack Obama and threw it on the ground.
The incident took place on January 26, at 8:30 pm. Rewell passed the storefront already agitated and gave the window a kick. He walked off, but suddenly stopped, turning around he paced for a few seconds. 
The kick to the window was not enough to alleviate his annoyance. Purposefully he marched over to the gate of a construction area and grabbed a cinderblock. The 41-year old then walked back to where the Barack Obama lookalike mannequin posed in the display and smashed the window. 
Rewell paused to pick up the glove he had dropped and suddenly remembered what his actual intent was. Reaching through the window, he pulled out the mannequin before angrily throwing it to the ground.
According to the owner of "Romantic Depot," Glen Buzzetti, a member of his security team ran after Rewell and detained him before officers from the New York Police Department arrived.
While being detained, matters took a different turn. A crowd gathered around the detained man and began attacking him. Rewell disrespected the former president Barack Obama, and they were not going to let it slide, as Glen said:
"We had to protect him from the crowd. He was surrounded. We put our loss prevention people out and surrounded him. He could have been killed. We had women trying to kick him in the head. We had to protect him because he had damaged the Obama image."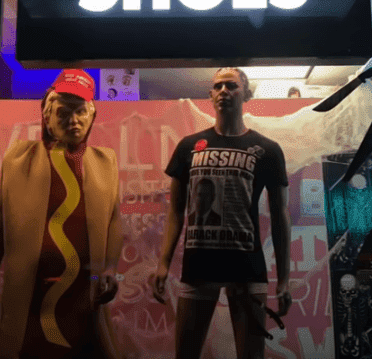 But the Rewell's behavior was not helpful as he continuously expressed hate speech towards the former president, as Glen
elaborated
: 
"He said he hated Obama, and that the mannequin was looking at him bad. He said, 'That doll was giving me bad looks. I'm tired of him. Obama brought the country down.' He said he walks by the store every day and sees Obama every day and it made him really angry."
Reportedly, Rewell's fit of anger cost "Romantic Depot" a $1,000 worth of damages. The Barack Obama mannequin was part of a display, which President Trump was part of. Barack got dressed as a prince, while Trump got dressed like a princess while donning a "Make America Great Again" hat.
It's not the first time Trump got used in a fashion display window. In Alexi Bittar' Halloween display in 2015, Trump was the star of the display.
Several of the designer's stores displayed Trump mannequins in a slightly creepy way. The dummy featured an over-sized paper mache head with a printed suit of $100 bills. Jewelry of all kinds cascaded off the Trump mannequin.
It just so happened that Trump costumes were popular in 2015. But Donald Trump's mocking mannequin may have made it through unscathed, but recently his star on the Walk of Fame was not so lucky.
In August 2018, vandal Austin Clay smashed Trump's star to pieces with an ax. But according to Austin, the consequences were only positive because he "wanted to bring about positive political change."