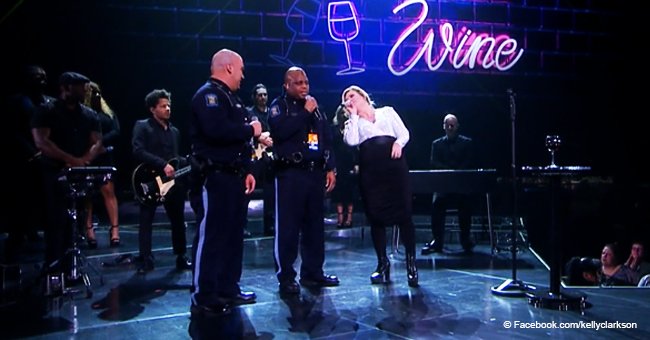 American superstar surprises audience inviting Kansas Hwy Patrol troopers to join her on stage
On February 7, Kelly Clarkson invited two Kansa Highway Patrol troopers onstage, and the result was magical.
As part of Kelly's "A Minute and a Glass of Wine" tour, the superstar performed in Kansas City on Thursday.
During her concert, Kelly spoke of two Highway Patrol officers that participated in a trend she just had to share, #policecarkaraoke. Lamonte Jackson and Mike Pagel created the video in May 2018, and since she was in their home town, she invited them on stage after showing a video of them "keeping it real."
The crowds cheered as the two men came on stage, and Kelly asked the audience to "give it up for these men who sacrifice their lives for you all every day," before two troopers sang.
The audience erupted in cheers once more as the two troopers got ready to perform, while Kelly jokingly added, "I've got your back, I'm your drunk background singer," while holding a glass of wine.
Mike and Lamonte sang the Ben E. King classic, "Stand by Me," as Lamonte got into the spirit of performance and enjoyed every minute on stage. A truly special moment of Kelly's tour so far.
Through her passion and talent for music, Kelly aims to make a positive difference in the world. Since she became the first "American Idol" winner in 2002, she shot to fame and continue to build a fan base with her talent and dedication to her music.
One role the superstar takes seriously is being a mentor on "The Voice," and she is good at it. The last two season wins came out of Kelly's camp, but for her, the role of mentor doesn't stop there.
Kelly remembered the days when she was in the shoes of these up and coming artists and admitted she felt "alone" after she won "American Idol." Committed to her role as mentor, she wants to make sure her proteges see her as the "big sister" who is there to support them while their careers take off.
Following Brynn Cartelli's win on "The Voice" in May 2018, Kelly took her under her wing and invited her along on her "Meaning of Life" tour to open alongside Kelsea Ballerini.
She also had performances with another contestant from last year's show, 18-year old Lynnea, who was one of the most controversial contestants on The Voice last year.
On January 24, Kelly had the premiere concert of her "Meaning of Life" tour during which she sang a special rendition to the Miranda Lambert song, "Tin Man."
The award-winning singer amazed fans as she delivered the special cover of the heartbreaking song while she sipped on a glass of wine.
Please fill in your e-mail so we can share with you our top stories!