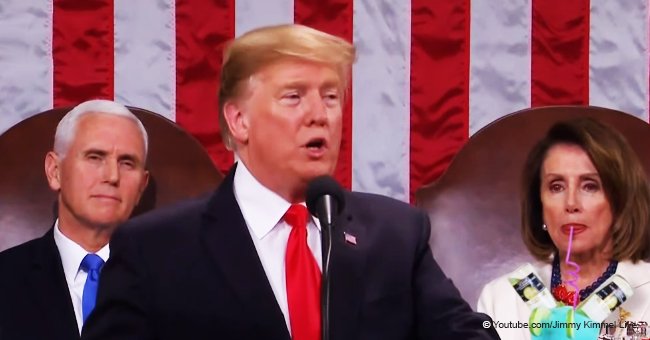 Jimmy Kimmel's got his own hilarious explanation of why Nancy Pelosi was clapping at Trump

Jimmy Kimmel gave one of the best explanations for why Nancy Pelosi delivered an exaggerated clap during the State of the Union speech.
The internet was filled with memes thanks to the Democratic Speaker of the House following Tuesday. As President Donald Trump spoke of unity, Pelosi showed support by applauding with the rest of the attendees.
People couldn't figure out if she was being sarcastic or genuine, however. Pelosi's extended arms and what appeared to be a smirk or a sly smile on her face was meme gold.
Kimmel seems to have a simple reason for Pelosi's behavior though. In his Wednesday segment of "Jimmy Kimmel Live!" the popular host replayed a portion of the speech.
Trump said:
"We must "reject the politics of revenge, resistance, and retribution and embrace the boundless potential of cooperation, compromise, and the common good."
With that, Vice President Mike Pence and Pelosi got up behind Trump and applauded, looking him in the eye as she did so. Kimmel said that "people went nuts about this."
He continued:
"They wanted to know if she's being sarcastic, maybe she's being sincere, maybe there was a bug in his hair and she's trying to kill it. Turns out there was a simple explanation."
The show replayed the portion of the speech, but this time they inserted a swirly wine glass in front of Pelosi's chest with a straw going up to her mouth.
Kimmel explained:
"You can see here, Nancy was drunk. She was drinking a frozen blue bobsicle and it went straight to her head and quite a party last night."
On Wednesday, Pelosi spoke to reporters and claimed the clap "wasn't sarcastic."
She said:
"Look at what I was applauding. I wanted him to know that was a very welcome message."
Regardless, the meme-making continued. Even Pelosi's daughter Christine gave her input on the viral clap. In a Twitter post, she said:
"She knows. And she knows that you know. And frankly she's disappointed that you thought this would work. But here's a clap. #youtriedit."
One person deemed the now viral picture the "photo of the century. Some people praised the moment, calling it "epic" and a "mood." Some said Pelosi was simply clapping because the speech was nearly finished.
It may be best to take the Speaker at her word rather than believing she was drunk. After all, it was just a clap. Trump and Pelosi certainly have other topics to discuss.
Please fill in your e-mail so we can share with you our top stories!