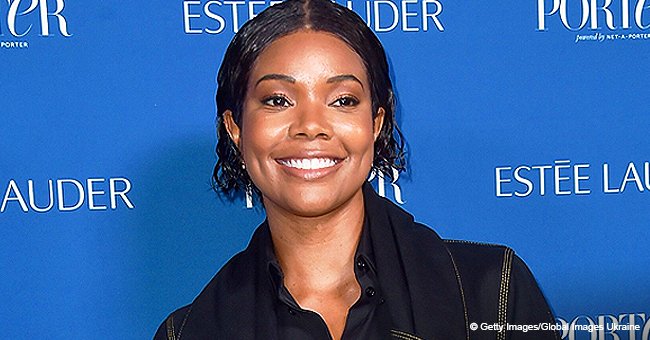 Gabrielle Union's 'shady baby' daughter Kaavia flashes rare smile in adorable new pics
Gabrielle Union is melting hearts with pics of her daughter Kaavia James flashing an adorable, but rare smile. The "shady baby" usually looks serious in photos, and fans are delighted to see the happy baby in all of her glory.
Kaavia James is only 3-month-old, but she's already stealing the spotlight from her famous parents: Gabrielle Union and NBA star Dwyane Wade.
The adorable tot has earned the nickname of "shady baby" because of her hilarious facial expressions and the fact that she seems to be always judging those around her. It also helps that her Instagram account, ran by her parents, always accompanies her pics with sassy comments that leave fans in stitches.
However, Union recently shared two adorable pics of baby Kaavia smiling, and fans can't stop gushing about the girl.
Wearing a cute white bib with an elephant print, Kaavia was captured giving the sweetest smile to the camera. Union simply captioned her post: "Explodes @kaaviajames #happyshadybaby."
However, the dotting mom shared another angle of the pic on Kaavia's Instagram, and added a funnier caption:
"Oh I love pie! Key Lime. Boston Cream. Peach pie. Banana Cream. Apple. Cherry. Blueberry. All kinds of pie. Those are just facts. #happyshadybaby."
Fans filled the comment section with praises and lovely comments, stating they were surprised to see the shady baby can smile.
"Love to see this serious baby smile," wrote one user, and another added, "Awww shady baby not throwing shades. Cutie patootie."
"She looks just like Dad, but I'd like to think the attitude is from me," Union told People magazine on their new issue. "She will stare into your soul and tell you about yourself through her eyes."
For the "Being Mary Jane" star, the funniest thing about Kaavia's Instagram account is reading people in the comment section interacting with the baby, as if she was the one coming up with the shady captions: "I'm not exactly sure what to think of it, but it tickles me and my husband," she said. "'Cause she can barely control her neck or her eyeballs. God bless. You know what? Enjoy it."
Union and Wade welcomed Kaavia James on November 7 through a surrogate.
The actress has been open about her struggles with fertility, and the fact that she suffered eight or nine miscarriages before finally opting to look for a surrogate when she had only three embryos left. However, Union says that embracing surrogacy was hard at first.
"There's nothing more that I wanted than to cook my own baby," she told Women's Health magazine. "The idea of it [surrogacy] felt like surrendering to failure."
But Union was able to move forward, and once she had baby Kaavia in her arms, all of her fears seemed unfounded. "I was like, 'Oh my god, this is my baby,'" she recalled. "I wanted to fight everybody in that room for various reasons and no reason."
Now, Union wants to focus on raising her child in the best way she can, and she says that being in her forties has given her the right mindset and mental space to "be the best mom I can be."
"I want to instill in her morals, values. And then I want to give her space to fill in those gaps, fall on her ass, and make mistakes."
Not paying attention to the trolls and haters on the internet has been easy for the 46-year-old, who doesn't plan on stop sharing pics or videos of her baby with fans, but is also clear about her stance on the mommy-shammers:
"If you can't just sit back and enjoy the miracles without offering every piece of advice Nana ever gave you, it's okay to unfollow. It's okay just to enjoy the ride."
Gabrielle will not be an overprotective mom. Instead, she wants to give her daughter all the necessary tools to cruise through life, but also space so she can learn from her mistakes. She said:
"I want to instill in her morals, values. And then I want to give her space to fill in those gaps, fall on her ass, and make mistakes. Get an F because she didn't study. Pick the wrong dude. Pick the wrong friends and figure it out. I don't want to be super judge-y."
Baby Kaavia just celebrated her 3-months of life, and fans are eager to see her shady expression develop as she keeps growing.
Please fill in your e-mail so we can share with you our top stories!