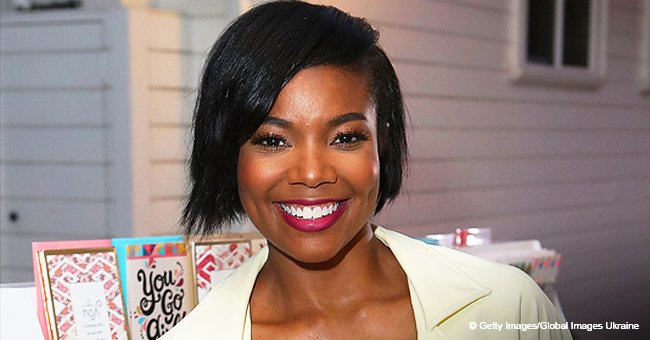 Gabby Union's baby melts hearts wearing striped top & white tutu for her 3-month birthday in pics

Gabrielle Union and Dwyane Wade's miracle baby Kaavia is melting hearts around the world after her parents shared a new photo of her wearing a striped top and white tutu to celebrate her third month on Earth.
Being the daughter of two international superstars, Kaavia now has her own Instagram account sharing bits and pieces of her life with her doting parents. Now that she just turned three months old, they made sure to announce this to the rest of the world by posting a photo of her looking blankly at the camera wearing a black and white striped shirt and a white tutu. Of course, they added in a "3 months" card that's meant to announce the special day.
Kaavia's Instagram captions are often shared from "her" point of view, but of course, this is all with the help of her parents. For this particular set of photos, she wrote:
"Shirley says word on the street is I'm 3 months old. How Sway?! Next thing ya know they gonna be callin me Auntie Kaav. Full stop. #shadybaby"
The Wades welcomed their first daughter via surrogate, and since then, they've been sharing how gracefully they've been trying to adapt to this new change in their life. Since she came, the two have clearly been swept away by their little princess, usually sharing how they spend their time together.
While Gabrielle could not bear a child herself, she was determined to have her own child and made sure to try every way possible for it to happen. According to the actress, she suffers from adenomyosis, which is a condition wherein the inner lining of the uterus breaks through the muscle wall of the uterus which causes constant menstrual cramps, lower abdominal pressure, and extreme bloating prior to her menstrual periods and can result to having extended and heavy periods as well.
While it is not fatal, the condition has extreme impacts on a woman's life, and the condition also messes with fertility.
Despite this, the Wades were determined to have a child of their own, and so they resulted in surrogacy especially since they have tried many other ways to get pregnant, including IVF among many others.
Now that their daughter is with them, the couple is extremely blessed and happy to have been given a chance to become parents with one another, and it's been the best feeling in the world for both of them.
Please fill in your e-mail so we can share with you our top stories!