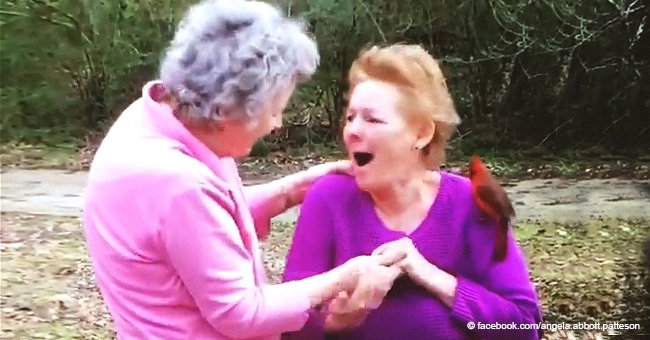 Elderly couple asked grandmother to send them a sign after death - and they got it with a bird

Dorothy Booth, 97, passed away last month while dealing with the sadness of her passing her family was consoled with the arrival of a bird in the days after death.
The cardinal arrived just at the time the family needed to be consoled, but interestingly Booth and the family had spoken about the visitor in the months leading up to her death.
Booth and her family spoke about what lay beyond in the months preceding her death. With her daughters lightheartedly urging Booth to send a sign after she passed if she could.
Her granddaughter-in-law, Angela Abbot Patteson Booth, explained:
"They talked many times with Grandma, lightheartedly, even jokingly. 'Hey, when you get to heaven, see if you're able to send a sign that you're there and that you're happy.' She would say, 'I'll see what I can do!' They said, 'Send a cardinal!' Because that was one of Grandma's favorite birds."
When Booth's family gathered the day after her memorial service to play her favorite card game, the cardinal made its first appearance at the kitchen window. Patteson added:
"My father-in-law went outside and saw it was a cardinal. It was just sitting there, completely alert and calm — nothing wrong with it. He was able to approach it and pick it up. He brought it in the house. [Debbie and Jeanne] were just ecstatic. They were taking pictures and crying and saying, 'Oh my gosh, it really happened!'"
After spending some time with the bird indoors the family decided to release the cardinal, but the bird wasn't quite ready to leave. After they released the bird, it lingered for a while before finally flying off.
The family felt a deep sense of gratitude for the sign they received, and they felt comforted that the encounter with the bird was anything but random.
"They knew that it was from God," Patteson said. "To have this happen has been so comforting. It's really helped my mother-in-law and her sister. This was definitely an answer to prayers."
In a similar case, Terenye Ann Norris was mourning her grandfather received a special visit from a wild bird. She said in an interview that his passing "shattered her heart."
However, Norris inherited her father's love for animals, and a brilliant red cardinal helped her to overcome the grief.
The same bird crossed her paths on several different days while she was out walking. Norris explained:
"I was talking to it, and it was just staring at me as if it knew what I was saying. Nothing like this has happened to me before."
Please fill in your e-mail so we can share with you our top stories!