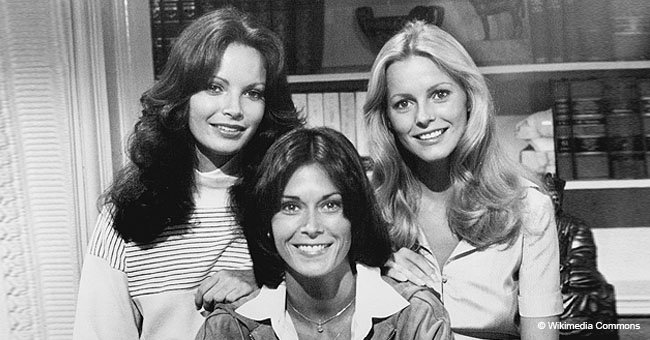 'Charlie's Angels' Jaclyn Smith & Cheryl Ladd look ageless reuniting years after the series ended
The amazing stars of the 90's crime-based drama television series, "Charlie's Angels," posed for a photo that drew attention to their unchanging youthful looks.
Cheryl Ladd and Jaclyn Smith who made sure that their on-screen chemistry extended beyond the cameras have kept their healthy relationship going.
Smith posted a lovely photo of them with the caption:
"With my sweet friend @angelcherylladd. No time has past when we are together."
Fans were delighted to see the two keep up both in friendship and appearance while filling the comment session with good-natured opinions.
Still lovely after all these years.
Charlie's Angels was a huge part of my childhood. I loooooved that show. I played Charlie's Angels with my sisters and wanted to be like all of you. Such a great message for young girls back then. #strongwomen
Smith sported a coat which she donned over a grey sweater while her hair cascaded down her shoulders. Cheryl, on the other hand, had her hair in what appeared to be packed in a band, she dressed in a similar fashion as her friend, wearing a black blazer over a fawn turtleneck.
The two hit it off well on set when Ladd came on on the second season of the TV hit which ran for five years as the younger sister of the now deceased Farrah Fawcett who had quitted then.
Although her role performance was sterling, Cheryl expressed her fears then of replacing Farrah who played Jill Monroe and had rather opted for being "Kris Monroe."
The duo acted alongside Kate Jackson as they all played the main characters being Charlie's Angels. However, Jackson and Ladd reportedly never got along with one another.
Jaclyn Smith on her own had been on the set of "Charlie's Angels" from the start when it was "Harry's Angels." The star played "Kelly Garret" and appeared through the whole course of the series. Afterward, she went on as a Kmart fashion designer.
Last year, Jaclyn revealed that she and Cheryl have been through a lot:
"We stay close, but time marches on, and there's great things to replace it, but it's a mix of things: It's fun but yet, also, 'Hey, wow, a lot of things have happened.' A lot good, but some sad things, too: We went through Farrah's illness, and David Doyle's passing."
It is indeed a tale of two friends who have weathered the storms of life together and have become stronger for it.
Please fill in your e-mail so we can share with you our top stories!