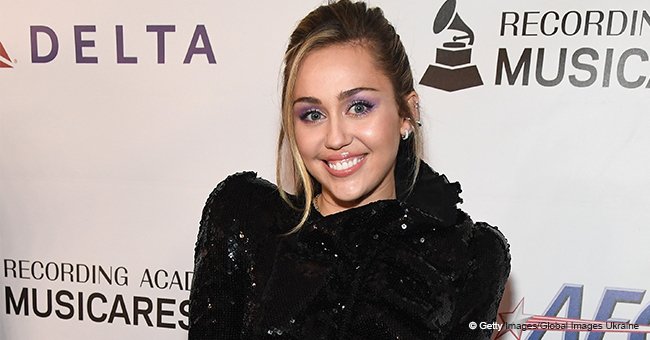 Miley Cyrus shares a stunning photo of herself in a sequin thigh-skimming dress
26-year-old Miley Cyrus posts a jaw-dropping picture of herself on her Instagram page; she was in a little black sequined dress.
The newly wedded 26-year-old singer performed at a musical tribute for her godmother, Dolly Parton on Friday for the MusiCares Person of the Year gala in Los Angeles.
On stage, Miley performed with Shawn Mendes, and on the guitar was renowned producer Mark Ronson.
The audience could not get over her sensual voice and her sexy outfit, a sequined black dress which showed off her thighs and at the same time complement her skin tone. The beautiful singer accessorized the Maison Francesco Scognamiglio dress with black strap heels from Public Desire, an array of rings and of course her massive engagement ring.
There were lots of comments; fans appreciated the 26-year-old beauty. But one comment stood out; that of her number one fan and husband, Liam Hemsworth.
"Good god," and an emoji of two hands raised. - Liam
Miley has always appreciated her husband for supporting and allowing her to be herself. She showed this through her tremendous love for him and by taking his last name.
"That was honestly the best thing about it. I didn't ask her to take my name, but she was like, 'No, of course, I'm taking your name.'" - Liam Hemsworth
Although Cyrus has not allowed marriage to tame her crazy style' apart from her mini sequined dress; the singer, and actress has been making some daring wardrobe moves. She recently posted a picture on her Instagram story, wearing an oversized shirt by Chinatown Market, no pants and lots of chains.
In the post, Miley opened up about her sadness about the super bowl game: "Rams lost. I'm bummed", but she consoled herself with the fact that she would be performing at the Grammy's this week. So despite the loss, the singer seems to be happy.
Fans felt the picture was regarding the Super Bowl, but Miley Cyrus posted explained her reason for posting it.
She admitted that she posted the picture:
"for no reason...tried to correlate this pic with the game. But it all sounded stupid. Cuz this pic is stupid and pointless."
Miley's Instagram story has been buzzing lately; just last week, fans got talking about her $995 Louis Vuitton airpods; hinting that she may be dropping some new songs.
Please fill in your e-mail so we can share with you our top stories!