Georgia businessman proudly poses with two dead baby elephants he 'defended himself' against
A businessman man who shot two baby elephants on a trophy hunt in Zimbabwe now claims it was "self-defense."
Social media is outraged by a photo that has been posted showing a Georgia businessman standing over the body of a juvenile elephant.
The post has gone viral and has provoked a backlash that is affecting the man's business, and damaging his public standing in the community.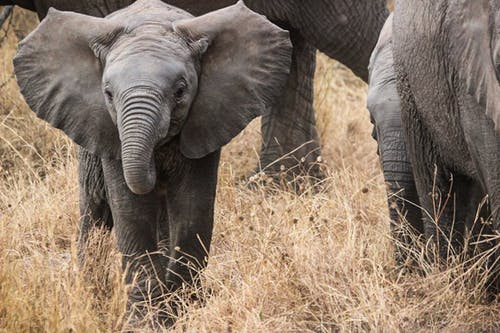 TOP BUSINESSMAN SHOOTS BABY ELEPHANTS
The businessman, identified as Mike Jines, a partner at TopGen Energy,  a global energy management company that owns, develops and sells power generation projects.
In October 2018, Jines traveled to Zimbabwe where he participated in trophy hunting and shot two elephants - one a juvenile, the other an infant.
Jines now claims that the two animals in the photos were "fully mature cows"
HUNTER CLAIMS HE SHOT BABY ELEPHANT "IN SELF-DEFENSE"
In the aftermath of the angered response and the call for a boycott of his company, Jines now claims he shot the two animals - including the tiny baby - in self-defense, but social media isn't buying:
"Apologies for the disturbing photo. If you're really upset by what you see, then make this go viral along with an email letting Mike Jines know what you think.info@topgenenergy.net"
PROFESSIONAL HUNTER AIDED KILLING
Jines can be seen in one of the photos proudly standing over the juvenile holding his gun, alongside professional hunter, Max 'Buzz' Delezenne.
Jines is well known for being pro-hunting, as one of the most vocal objectors to the 2014 US Fish and Wildlife Service ban on importing trophies of hunted elephants:
"Without a strong show of outrage by hunters, the USFWS will just be emboldened to continue down the path of nibbling away at the rights of sport hunters."
OUTRAGE HAS JINES ON THE RUN CLAIMING "MISUNDERSTANDING"
Another angry post showed the shocking photos of the two young animals, one of them so young it was tuskless, crumpled on the ground, while the hunter smiles broadly:
"They killed a baby elephant! The hunting company is Charlton McCallum Hunting Safaris. The owner is Buzz Charlton. The professional hunter is Max Delezenne and the trophy hunter is Mike Jines, the owner of #TopGenEnergy. Share and make them famous for being SCUM!!"
He's seriously "Blaming" the poor baby elephant - Claims he HAD TO KILL him - and then poses SMILING for these photos with it's warm dead body. Can you imagine EVER doing business with #TopGenEnergy? Digusting. Massive liability.

— Tracy Bobbitt TalentManager / Bi-coastal ATL-LA (@HollywoodMom) February 6, 2019
JINES CLAIMS BOTH ANIMALS WERE "FULLY MATURE"
Curiously, Jines now claims that the two animals in the photos were "fully mature cows" and that he was forced to shoot the elephants when they charged:
"(the elephants) were shot in self-defense, in an unprovoked charge and both elephants were fully mature cows, not juveniles." 
Mike Jines justified his actions by asserting that the animals were shot in full compliance with laws and regulations in both Zimbabwe and the US.
It would behoove Jines to remember that the Juan Carlos of Spain saw his image irreparably damaged in 2012  when photos of the king standing proudly in front of a dead elephant were released by the media.
WILD ELEPHANT ASKS HUMANS FOR HELP
A wild elephant shot by poachers in Zimbabwe approached humans for help.
The animal, who had been shot in the head and was seriously injured, approached a vehicle of the Aware Trust Zimbabwe.
The  Aware Trust Zimbabwe is a conservation trust run by veterinarians and dedicated to the welfare of wildlife, and the protection and conservation of wildlife habitats.
"The elephant was is so much pain; he walked right up to doctors to ask for first aid. Named Pretty Boy, this targeted elephant was shot in the head. The elephant was then tranquilized and given an x-ray which showed a deformed bullet in his skull."
The veterinarians sedated  Pretty Boy and took an X-ray which revealed a deformed bullet lodged in his head.
The elephant underwent a surgical procedure to remove the bullet from his skull, and to repair another wound to his shoulder.
The doctors believe that Pretty Boy had lived with the bullet lodged in his skull for approximately six weeks before he approached the humans for help.
In a related story, a baby elephant noticed man 'sinking' in a river, and startles everyone by running to rescue him from drowning.