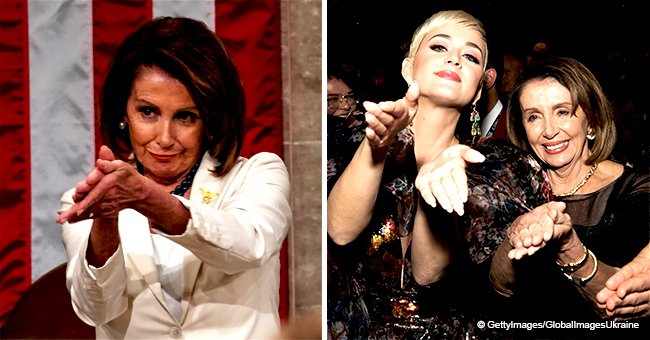 Nancy Pelosi remakes her 'non-sarcastic' pointed clap to Trump - this time with famous stars

Nancy Pelosi made it clear that she was not making a jab during Trump's State of the Union address last Tuesday. Still, she didn't hesitate to recreate the controversial clap with popular celebs.
Pelosi is still enjoying her increased fame as a result of the pointed clap she gave President Donald Trump. On Friday, she shared the meme glory with Katy Perry and Orlando Bloom.
The trio attended an honorary person of the year event hosted by MusiCare for Dolly Parton, 73. As they stood in the Los Angeles Convention Center, they decided to recreate Pelosi's "troll clap."
Pelosi's husband Paul, 78, smiled as his wife, Perry, and Bloom extended their hands to make an exaggerated clap quite similar to what the House Speaker did last Tuesday.
At the time, Trump spoke of rejecting "the politics of revenge, resistance, and retribution and [embracing] the boundless potential of cooperation, compromise, and the common good."
When he said this, Pelosi stood up behind him to applaud with the rest of the audience. Her clap, however, seemed exaggerated and was further accompanied by a smirky smile when Trump looked her way.
On Wednesday, Pelosi insisted that there was no hidden meaning to the clap. It mattered little to Twitter users who ran with the idea and created hilarious memes.
Pelosi said:
"It wasn't sarcastic. Look at what I was applauding. I wanted him to know that it was very welcomed."
Yet even Pelosi's daughter Christine jumped on the bandwagon, giving her own meaning to her mother's humorous clap.
Christine wrote on Twitter:
"Oh yes, that clap took me back to the teen years. She knows. And she knows that you know. And frankly she's disappointed that you thought this would work. But here's a clap."
Pelosi and Trump are at war on a number of issues in the political arena. Most notably, the border that Trump is bent on getting built. He shut down the government for 35 days in hopes of attaining funding from the Democrats to do so.
Pelosi and others did not give in. Amid their unspoken battle, one of Pelosi's planned trips was canceled while Trump's state of the union speech was pushed back to the eventual date last Tuesday.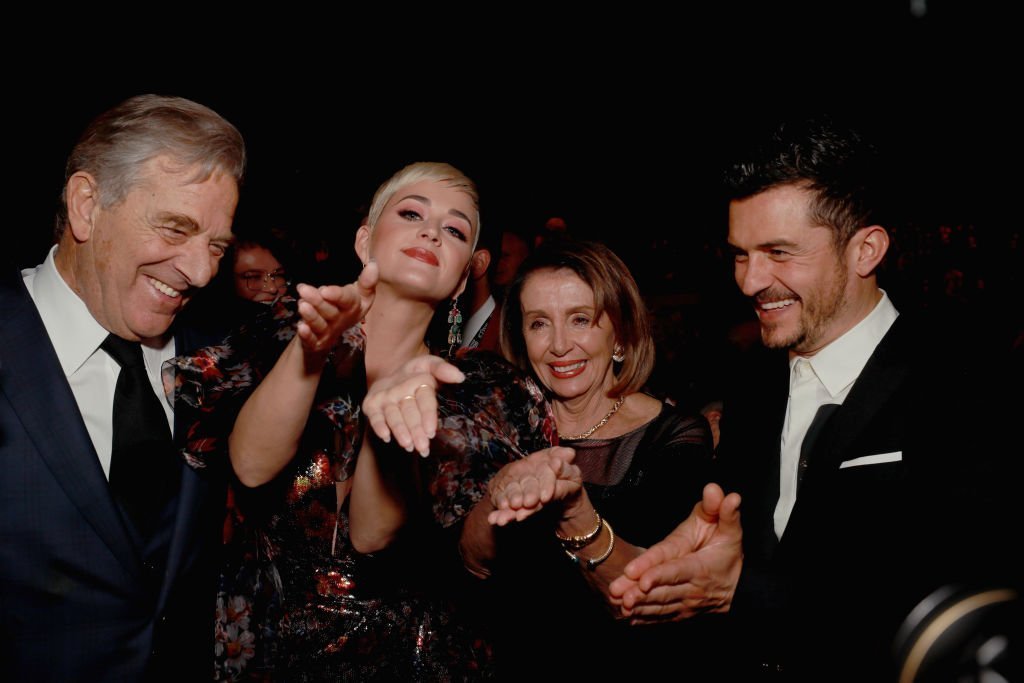 From left: Paul Pelosi, Katy Perry, Nancy Pelosi, and Orlando Bloom at MusiCares Person of the Year 2019 honoring Dolly Parton | Photo: Getty Images
Trump has also warned that he would declare a national emergency in order to build the wall. Both he and Pelosi are not giving in, but it's great to see the House Speaker keeping a light-hearted attitude at times.
Please fill in your e-mail so we can share with you our top stories!