Eve sets hearts racing in heavily tasseled dress with deep plunging neckline & slit for night out
Eve recently made head turns to look at her toned figure in a stunning red dress that left little to the imagination, as she brought the house down with her performance at the Go Red For Women fashion show in New York.
The rapper was quite the stunner in a heavily tasseled red dress that featured a plunging neckline, that put her cleavage and famous cats paws tattoos on display, and a thigh-high slit, showcasing the "Let Me Blow Ya Mind" hitmaker's toned legs.
She completed the look with red ankle boots, and several silver accessories, leaving her long strands to fall on her back.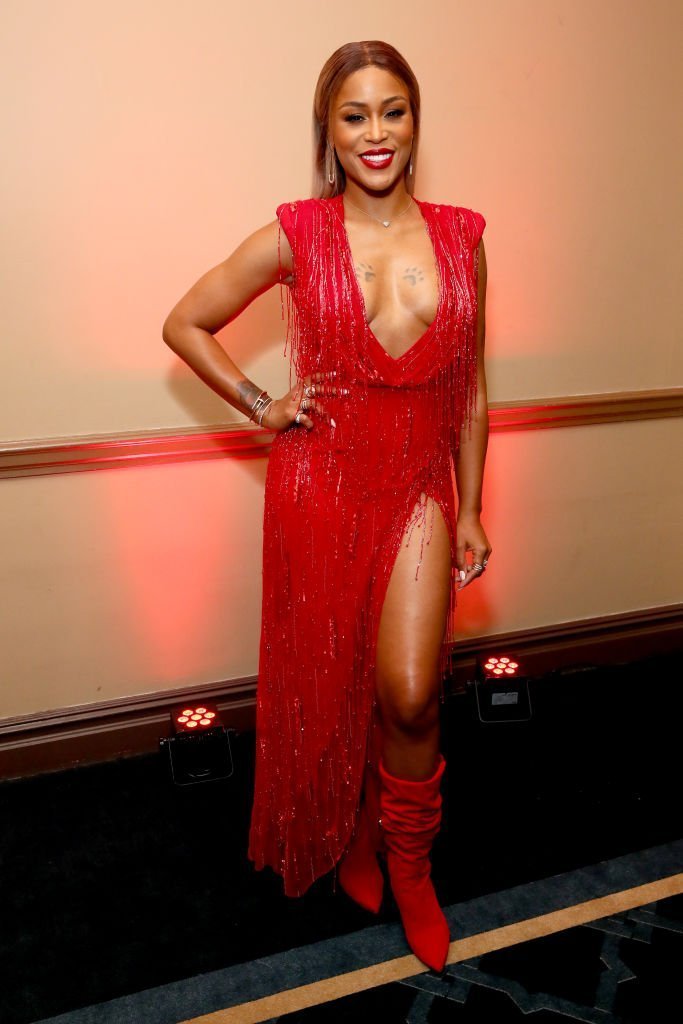 Eve was one of the many female celebrities to attend the 15th Annual American Heart Association's Go Red For Women Red Dress Collection show, an event where diverse personalities of the entertainment industry strut down the catwalk wearing red to raise awareness about heart disease on women.
The 40-year-old was also in charge of the entertainment for the evening, hitting the stage to perform some of her best hits flanked by two male dancers.
"Tonight was amazing!! Thanku @american_heart for having me tonight," the rapper captioned an Instagram post that featured a short clip of her performance, and another of her walking down the runaway.
Eve had a busy weekend, as she hosted the Grammy Awards' Red Carpet Live for CBS, and then took the stage at the ceremony alongside Swizz Beatz to introduce Travis Scott's performance.
And continuing with her string of stunning outfits, she rocked a white pantsuit featuring a long cape, and gold accessories to enhance her look.
"Got to reunite with my #brother @therealswizzz tonight m the #Grammys and his #beautiful #wife @aliciakeys held it down all night hosting!! #girlpower," she captioned a pic alongside Swizz Beatz.
The "The Talk" co-host seems to have moved on already from the controversy that surrounded her a few weeks ago after she made harsh judgemental accusations against Chris Brown when a woman accused the singer of rape.
After the news broke about Brown being arrested in Paris, Eve weighed in on the issue on "The Talk" and said some harsh words against the singer.
"It's really a shame. I mean, obviously, we know he's had trouble in the past, and it's like, when are you going to stop and grow up and allow the talent to shine through and fix your brain?" she said. And added:
"This is ridiculous. I'd like to hope that these allegations aren't true. Obviously, we don't know. But at the end of the day, times have changed. If you guys don't know that yet, whether in America or overseas, get your act together."
People on social were quick to call out Eve for being too judgmental and jumping to conclusions before waiting for the truth to come out. The surge of comments prompted the rapper to apologize via an Instagram video two days later.
"At first I didn't think what I said was harsh, but then I looked back it, and it was kind of harsh. It was only harsh because I'm passionate about the climate that we're in right now with women and all these allegations coming out. My passion wasn't geared towards Chris Brown and this specific allegation."
Eve clears up Chris Brown Allegations pic.twitter.com/MrpSmHc9cl

— Karen Civil (@KarenCivil) January 24, 2019
Brown was released a day later after being detained by French police, and no charges were filed against the singer.
Eve reiterated her point on Twitter and apologized for being "quick to accuse." She also tagged Brown in her apology.
"Hey guys, I'm hearing the comments about what I said the other day and while I stick by my PASSION about what I feel about the climate we are in as WOMEN, I COMPLETELY understand how it looks as though I was QUICK to ACCUSE.. and for that I AM truly sorry @chrisbrown."
Hey guys, I'm hearing the comments about what I said the other day and while I stick by my PASSION about what I feel about the climate we are in as WOMEN, I COMPLETELY understand how it looks as though I was QUICK to ACCUSE.. and for that I AM truly sorry @chrisbrown

— EVE (@TheRealEve) January 25, 2019