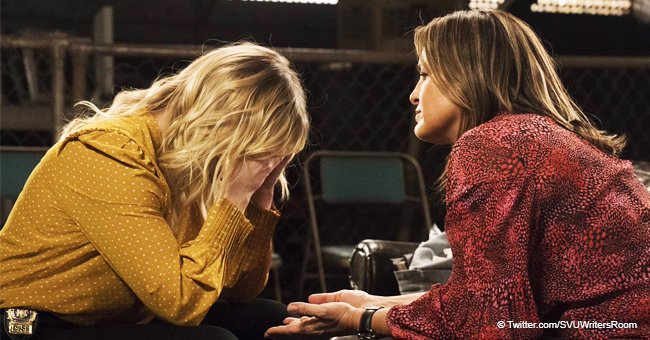 Recent 'Law & Order: SVU' episode was so 'intense' it made fans 'grip' the edge of their seats

The 33rd episode of "Law and Order: Special Victims Unit" was exciting and heightened the nerves of fans watching, making them "grip the edge of their seats."
The latest episode of "Law and Order: SVU" begins with Annabeth Pearl (Amy Rutberg) walking into a bar, wearing only her nightgown. In her hands was the weapon she used to kill her police officer husband who was abusive towards her.
This episode shows its unique nature when the Special Victim Unit is torn on between telling the complete truth or not.
"Peter Stone" played by Philip Winchester concluded after weighing in on the case that it will be a straightforward one, especially since the defendant, Annabeth, had confessed to the crime. But nothing is that simple in "Law and Order."
Stone, at trial, calls the detectives to testify on the stand; while amid themselves, Odafin Tutuola (Ice-T), Dominick Carisi (Peter Scanavino) and Amanda Rollins (Kelli Giddish) argued on what they would say in front of the jury. There was division among them as some of them believed she deserved to be free while some felt she was a cold killer.
Carisi admitted he knew Annabeth's husband and revealed that he was an awful person that deserved to die. He and Fin gave their testimonies, which seem to put Annabeth at an advantaged position. The jury would look at her with sympathy and make the homicide justifiable, perhaps as involuntary manslaughter.
Rollins, on the other hand, wanted to see Annabeth charged with the murder and put behind bars, but just before she took the stands, Olivia Benson (Mariska Hargitay) arrives and they get into a heated argument.
Olivia brought to light the emotional scars of Rollins due to the abusive relationship his parents had. Rollins wanted Annabeth behind bars because she felt she was just as weak as her mother.
Benson, however, insisted that Annabeth is strong, the scene got so emotional that she started to talk about her experience with her abductors. That scene got fans saying that she deserves an Emmy award for her performance.
When it was Benson's time to testify, Stone asked if Annabeth showed any remorse during the confession. Benson, after beating around the bush, eventually told him that she was not remorseful.
"She said she was glad her husband was dead and that she prayed about it for years."
Benson's testimony helps convict Annabeth for her crime.
The episode got so many fans talking about how exciting the episode was; some even said it was the best episode in all the 22 seasons.
With the many applauds that episode 33 got, it is quite interesting that the show lost viewers on the episode. According to Dick Wolf series' TV ratings, episode 33 pulled in 4.15 million viewers, which was lower than what it brought in the week before, placing the show at number seven out of fifteen NBC shows.
But even at that, the show moved up in general ranking, it was ninth last week but moved to seventh.
"SWAT" still ranks above "Law and Order" but "How To Get Away With Murder" ranks below.
Please fill in your e-mail so we can share with you our top stories!