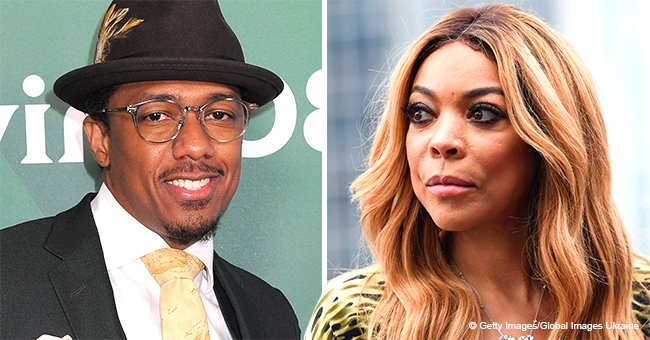 Nick Cannon finally responds to rumors he's replacing Wendy Williams on her talk show

Nick Cannon silences rumors that he's permanently replacing Wendy Williams and reveals why.
Nick Cannon shut down rumors that he'll be replacing Wendy Williams on her talk show. The comedian who's currently filling in for the recovering talk-show host made it clear that he will not be taking over Williams' daytime show permanently.
It was only last week when Cannon began to act as host of "The Wendy Williams Show" after Williams announced she'd be taking an indefinite hiatus due to health reasons. Cannon's temporary role on the show was met with rave reviews with reports suggesting he's perfect for daytime TV and may want to consider doing it for good.
These reports went as far as saying Williams' staff are so pleased with Cannon they prefer him instead of their original host.
"Work is much better" according to a source who revealed employees had been walking on eggshells when it was Williams and her husband Kevin Hunter running the show. Now that Cannon is their host, the work environment is friendlier and more relaxed.
However, Cannon recently denied reports when he shared a clip from his show on his Instagram. In his caption, he wrote,
"BTW Nobody can replace Wendy!!! There is and will only be one Wendy Williams! I'm a fan. Sending Positive Vibrations & Praying for the Queen and her peace. She will be back on TV in no time!"
Cannon revealed in a recent episode that he has been in communication with Williams and even passed on a message from her in her show. He revealed she was doing fine and subsequently denied rumors her marriage was in trouble. Williams' husband was rumored to be engaged in a long-term affair with another woman, what fans suspect is the real reason Williams hasn't been back on the show. Cannon disproves this by telling her fans "the love and the passion is still there."
An announcement of Williams' return date has not been disclosed but she's reportedly looking forward to be back soon. A source for Hollywood Life allegedly added that the star who's currently being treated for Graves disease isn't worried about being replaced because she is "irreplaceable."
As for those who wish for Cannon to take over for good, this isn't possible too. He's reportedly slated for a late night series in Fox. He said goodbye to Williams' show last week and was replaced by Sherrie Sheppard.
Please fill in your e-mail so we can share with you our top stories!