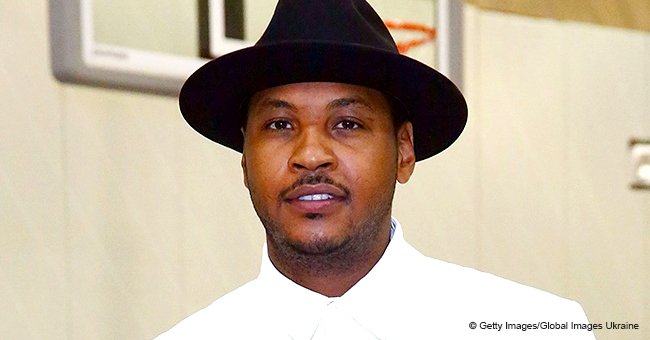 Carmelo Anthony's alleged baby mama says daughter doesn't need him after LaLa reconciliation rumors

Carmelo Anthony's alleged baby mama, Mia Burks, claims that even a year after the birth of their daughter, the baller is still missing-in-action.
Rumors have been swirling around for a year that Carmelo and Mia had an affair, which resulted in the birth of their daughter Genesis. This happened during the brief separation between Carmelo and his wife, LaLa Anthony.
Although fans have always noticed a resemblance between Melo and Genesis, the NBA star never confirmed or commented about the rumor of him being the father of the child.
Social media users would often bombard Burks' Instagram account with comments asking whether or not Anthony is in the little girl's life, especially since it's clear that they look alike.
"Is her dad in her life? Because how in the hell could a "man" have a child who looks exactly like him but he chooses to neglect the child?"
Mia casually replied to this comment, saying "no, maybe in the future." This caused other users to join in on the conversation, calling out Carmelo and LaLa for not making an effort to be in an innocent child's life. However, Mia responded by saying that regardless of whether or not Genesis grows up with her dad in her life, she's going to turn out fine.
"@_raiiney_13 i yi yi thank y'all for sending love and positive vibes, but in all honesty, my daughter is good- with or without a father she's going to BE GREAT. i responded to a comment to clear what i am asked on the daily. i promise we gets too rest at night. no worries on this end."
It was only in December that the 34-year-old NBA superstar and his "Power" actress wife reconciled after calling it quits two years ago.
The pair shocked their fans when they appeared in the Winter Wonderland holiday charity event together in the Bronx, proving that they've decided to give love a chance again. The Anthonys previously separated after seven years of marriage due to constant arguments between the two.
Now that they're ready to give love a chance again, it's unclear whether or not they're ever going to respond to rumors that Melo fathered another woman's child during their two-year separation. From Mia Burks' perspective, it would be great for her daughter to get to know her dad, but if he doesn't want to, then it's no problem with them either.
Please fill in your e-mail so we can share with you our top stories!