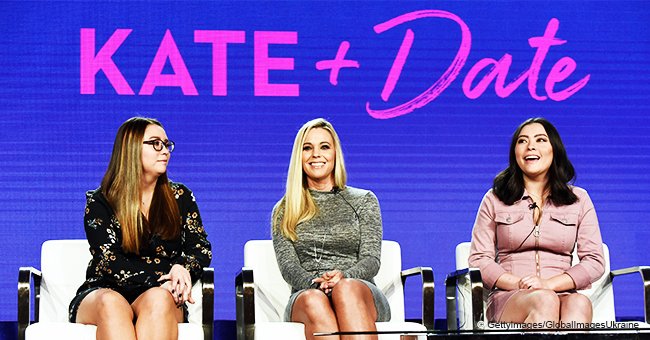 Kate Gosselin makes first TV appearance in a year, and all eyes are on her grown-up twins

Kate Gosselin made her first public appearance in a year with her twin daughters by her side and will soon return to reality television.
On Tuesday, during the Television Critics Association (TCA) Kate spoke about "Kate Plus Date," her upcoming dating show. Joined by her 18-year-old twin daughters Cara and Maddy, Kate opened up about why she turned to a television show to find love.
The 43-year-old reality television star looked beautiful in a grey dress, while Mady opted for a pink dress and white boots, Cara wore a black floral dress with black heels.
During an interview with People last year, Kate shared how she felt about her new upcoming show:
"I'm nervous, I'm excited, and I'm forcing myself to do this."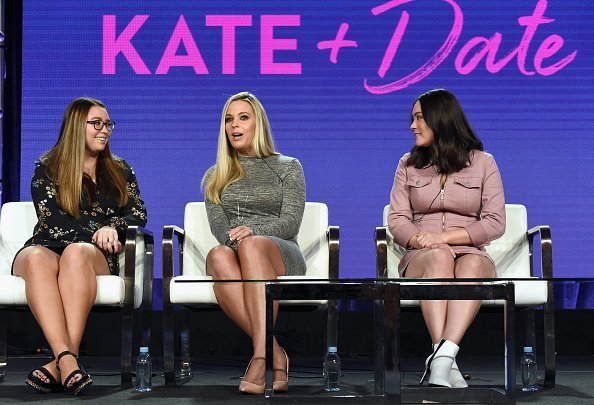 Cara Gosselin, Kate Gosselin, and Mady Gosselin during the TLC portion of the Discovery Communications Winter 2019 TCA Tour at the Langham Hotel on February 12, 2019, in Pasadena, California.| Photo: Getty Images
Now Kate feels it's the best way for her to find love as she
said
:
"I'll be safe! And the person will have been vetted by a matchmaker. I won't be just doing some scary online thing. I mean, online dating, seriously — I put my profile in there, and people will know who it is within 90 seconds. No, this is probably the safest way for me to date, let's be honest."
The mother of eight hasn't dated much since she and Jon divorced ten years ago and to Kate the show appeals for "the safety it provides." Having eight children makes it hard to focus on one's self as Kate elaborated:
"I stopped focusing on myself — I used to be a runner, and all of these things sort of fell by the wayside, and I sort of forgot about the dating thing,' she says. 'It's never really fit into my life."
However, twins Mady and Cara are going off to college in the fall, and the sextuplets are 14-years-old. Colling and Hannah live with their father Jon, while Aaden, Joel, Alexis, and Leah stay with mum Kate.
Already picturing herself knitting in a rocking chair, Kate realized that is not what she wants for herself. Her children also want her to be happy and find love as Kate said:
'It almost became like a worry for them, too, like Mommy, you're gonna be all alone soon. But it was very apparent, now that they're older and talking about dating and how they're all gonna get married someday … it became apparent: they want someone for me. They want me to have somebody in my life.'
The TLC show will follow Kate as she goes on dates, and is looking for a man that loves dogs and can support himself.
Life before fame and eight children seems like a lifetime ago, but the reality show, "Jon & Kate Plus 8" sure helped pay the bills that come with having eight children. Before the reality television show, Kate worked as a delivery and labor nurse at the Reading Hospital and Medical Center in Pennsylvania.
Since a position like that pays around $69,000 per year in the state of Pennsylvania, sticking with much more lucrative appearances on reality shows seems like the logical choice.
On January 23, Kate posted her first update on Instagram since Thanksgiving. With the publicity surrounding the custody battle over the children with Jon, social media constantly criticize everything Kate does and she decided to take a hiatus from social media. However, her update had matters carry on where they stopped, as fans had few nice things to say.
Please fill in your e-mail so we can share with you our top stories!