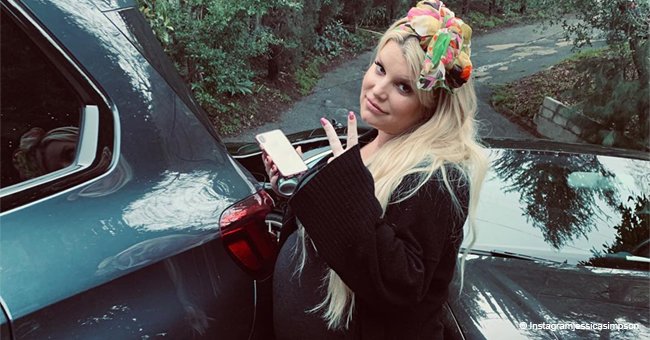 Jessica Simpson doesn't hesitate to show herself during her last weeks of pregnancy
Jessica Simpson is glowing as she expects the imminent arrival of her third child.
Singer/ actress/ designer Jessica Simpson is now on the final stages of her third pregnancy, and she is glowing.
She shared a photo of herself on Instagram where her baby bump is proudly on show in a stunning closefitting knitted dress.
THE THIRD BABY FOR SIMPSON AND ERIC JOHNSON
Simpson, who is expected to give birth in early March, already shares two gorgeous children with former American football player Eric Johnson.
The couple started dating in 2010, and Simpson gave birth to their first child Maxwell Drew Johnson, now 6, in 2012. Their son Ace, 5, was born in 2013.
Simpson, 38, has admitted that her third pregnancy has been the most challenging
SHARING HER EXPERIENCE WITH FANS
Simpson, who has gained a lot of weight in her third pregnancy, has been sharing some of the difficulties she has been experiencing with her fans on social media. The recent posting of a photo of her enormously swollen feet on Instagram raised much concern for her health.
SWOLLEN FEET FORBID HIGH HEELS
The famously svelte Simpson, who always traipsed around in dizzy heels can now only wear slippers, and she appealed to her followers for advice on how to cope with her swollen legs and feet.
A CHALLENGING PREGNANCY AT 38
Simpson, 38, has admitted that her third pregnancy has been the most challenging, and she has put on more weight than with her two other babies.
Nevertheless, we can look forward to her bouncing back to her former elegance, just as she did after the births of Maxwell and Ace.
AWKWARD PREGGY MOMENTS
Jessica Simpson, now at the end of her third pregnancy, has reached that complicated moment when the glow is substituted by feeling - and looking like the Good Year blimp.
The star shared a hilarious photo of herself holding a broken toilet seat captioned:
"Warning….Don't lean back on the toilet when pregnant."
Simpson has also revealed that she is suffering from acid reflux - a condition common to many expecting mothers.
Acid reflux occurs when some of the acidic stomach contents go back up into the esophagus, especially when lying down. The unpleasant condition has forced Simpson to sleep with a recliner.
Luckily for Simpson, her ordeal is nearly at an end and she will soon be holding her precious bundle in her arms for the first time.
In a related story, Jessica Simpson just revealed the unusual name she picked for her third child.
Please fill in your e-mail so we can share with you our top stories!