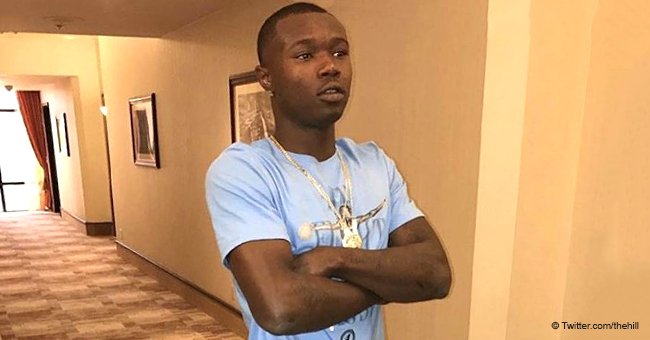 Aspiring rapper fatally shot by six California cops while sleeping in his car

21-year-old rapper Willie McCoy aka Willie Bo was shot to death by six cops who claimed self-defense. McCoy was sleeping in his car when he woke up and shots were fired. His family is in anguish.
Another young soul has been fatally shot under unclear circumstances. 21-year old Willie McCoy was sleeping inside his vehicle when he woke up to a series of gunshots aimed at him. He died on the spot.
WAKING UP TO SHOTS
McCoy, an aspiring rapper who goes by the name "Willie Bo" was discovered by police inside his car with a handgun on his lap. According to the Vallejo police, they responded to a call by a Taco Bell employee who was concerned about a man slumped inside a silver Mercedes and parked in the drive-thru lane.
When police arrived and approached the vehicle, McCoy seemed unresponsive and they spotted the handgun. The Mercedes was locked and the transmission was on drive. Shortly after, McCoy began to move and despite the cops' warning to keep his hands visible, he reached for his gun. It was at that moment that the officers shot at the young man for "fear of their own safety," they said.
THE AFTERMATH
Following the shooting, the police sought medical assistance and tried to revive McCoy who was pronounced dead at the scene. The handgun which was loaded was recovered from the vehicle.
Initially, McCoy's name was not disclosed as well as the six officers who were involved in the incident. According to a report by the Guardian, all six officers fired shots within four seconds. However, the number of bullets that hit the victim was not revealed.
AN ANGUISHED FAMILY
Following the tragic incident, the rapper's family questioned the way the police handled the situation. McCoy's brother, Marc McCoy told the Guardian,
"There was no attempt to try to work out a peaceful solution. The police's job is to arrest people who are breaking the law — not take the law into your own hands. You're not judge, jury and executioner. ... We're never going to get over this."
Marc believes McCoy was simply surprised by the presence of the police around him when he woke up. If the police simply ordered him to get out of the vehicle and not shoot him, he'd still be alive.
"Police are trained to shoot first and hurt you first. They do not respect black people. Even when they have a person subdued and their life is not in danger, they continue to be blatantly physically disrespectful. That is just accepted in America."
A cousin of McCoy, David Harrison added,
"We cannot fathom why they would have to shoot him. This was senseless ... shooting a man sleeping in his car. We want to make sure this never happens again to another person."
McCoy is described by his brother as "very ambitious about music." He performed with a group called FBG. He also loved to spend time with his nephews and nieces and would often make music with them. He was also very generous with his money and time.
STATEMENT FROM POLICE
In a statement from the police department recounting the events, it insisted that the cops gave several chances for McCoy to surrender but he didn't.
"Officers gave the driver several commands to put his hands up. The driver did not comply and instead he quickly moved his hands downward for the firearm. Fearing for their safety, six officers fired their duty weapons at the driver."
OTHER CASES OF POLICE SHOOTING WHILE VICTIMS ARE ASLEEP
The Vallejo Police Department is currently looking for witnesses to provide more information about the incident. This is the third high profile case reported in the broader Bay Area involving the police shooting people after being wakened. A homeless man who was armed and sleeping was shot and killed by four police officers last year. In 2015, a man passed out in his car was also killed by cops when he reached for his gun when he was abruptly awakened.
Please fill in your e-mail so we can share with you our top stories!