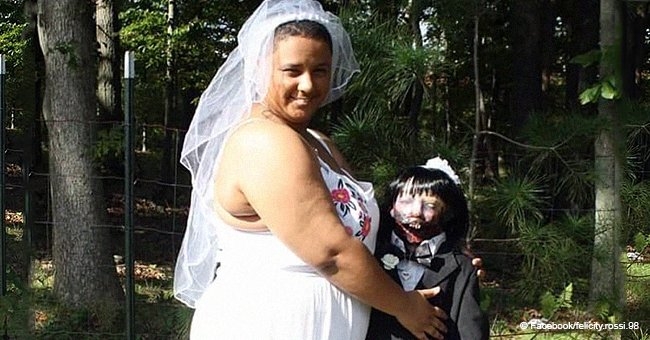 Woman opens up about her marriage to a 37-year-old zombie doll: 'I have never felt happier'

A woman has married a zombie doll after falling in love with the spooky birthday present and claims that her world is now complete.
Felicity Kadlec, 21, from Massachusetts, married the creepy doll in September 2018, after saying they had a "normal" and "intimate" relationship.
The ceremony, which took place in Tiverton, Rhode Island, cost Felicity $500 and was also attended by four of her family friends and eight of Felicity's other dolls. The newly-wed said she married the "love of her life" Kelly Rossi, who is 37 years old, according to her.
"I have had boyfriends in the past, and I always thought that I was in love with them - but they never made me feel the way I do now."
The wedding images show her in a white dress, lovingly holding the spooky toy in a tuxedo, and her profile description says: "Kelly (the doll) is the most valuable! It has been my world for years. "
Although her parents gave Kelly to her when she was 13 years old, Kadlec said their love took three years to blossom. First, she fixed her eyes on the doll in a creepy doll collection website, Kadlec said.
In a report from Daily Mail, she said: "But it was not until I was 16 years old that I started to feel something for her, but it was something I kept trying to deny."
Kadlec said she regularly caresses the doll and feels safe in her presence. The woman regretted that many people do not understand their relationship, but she assured that their love is true and she even tattooed the name of Kelly on her arm.
Friends and family members opposed their relationship and, reportedly, in the past they did not allow Kadlec to bring the doll when they went out. But like in all great love stories, Kadlec ignored those who fought against their love and apparently married her creepy zombie doll.
In a similar story, a 33-year-old Briton plans to marry a candelabrum that she herself acquired online and admits that she loves to hug and kiss.
"You can't control falling in love and things are just like that," says the woman who has surprised everyone with her peculiar commitment.
If these stories surprised you, learn about Amanda Teague, who was married in Ireland's international waters to the ghost of a 300-year-old pirate.
The wedding took place on board a ship off the Irish coast and was legally held by a shaman priest; however, less than a year after the ceremony, the couple has decided to cancel the marriage.
Please fill in your e-mail so we can share with you our top stories!