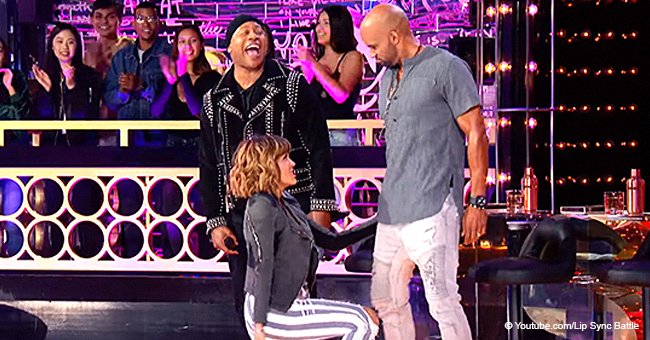 Boris Kodjoe's wife Nicole flirts hard with husband in 'Lip Sync Battle' preview

Nicole Ari Parker and Boris Kodjoe are set to guest star in Paramount Network's "Lip Sync Battle," and the episode's teaser video hints a lot of public displays of affection between the two.
In the upcoming episode of "Lipsync Battle," it's Parker and Kodjoe's turn to stun the show viewers with their feisty and romantic performance. In the show, the "Empire" actress will be performing Taylor Dayne's song "Tell It to My Heart," featuring her hunky husband.
Aside from their highly-anticipated performance, the couple also joined the show's "Liar, Liar" segment, where they both challenge one another to guess which statements are true and which ones are false.
To excite their fans about the upcoming episode, the show released a teaser video of Parker's sexy rendition of the song, where she gives it her all while serenading her husband. Clearly loving her performance, the show's hosts and even Nicole's husband were absolutely stunned by what she was able to pull off.
After such an energetic and passionate teaser video, fans are waiting to see the full episode. Comments on the show's YouTube channel praised Nicole for her lip-syncing skills, and for her ability to look gorgeous despite having to put on such an intense character to fully-embrace the power of the song.
"@RoyalMasterpiece: They are marriage goals. So cute and God bless them!"
@A D: They been together so long. I bet they are good to one another."
Nicole and Boris are marriage goals indeed, and the two are comfortable doing anything and everything with one another. In fact, during the actress' birthday last year, she decided to spend her birthday out with a few of her girlfriends. Her husband of thirteen years made sure to let her know what she was missing out on at home, posting a shirtless photo of himself.
His caption read: "I know you out with yr girls tonight..have fun...I'll be here when you get back. #TellHerTuesday." Meanwhile, Nicole called him out for posting the photo after she'd left the house, saying that when she was still home, he was dressed in a sweatshirt while yelling at their two kids to brush their teeth.
Their love and confidence as a couple have only strengthened through the years, and now they're showing the world yet again why they should be considered "marriage goals" in their recent "Lip Sync Battle" appearance. Not only does Nicole playfully flirt with her husband onstage, but Boris happily plays along with it, too, to make sure his wife gives the best performance ever seen by the show.
Please fill in your e-mail so we can share with you our top stories!