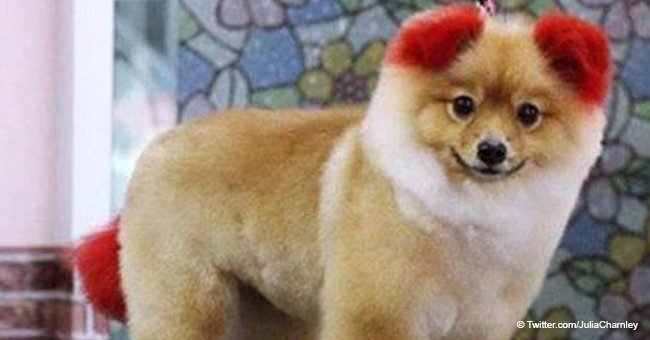 Little pomeranian lost its ear after owner dyed it bright red just for fun
The Thai dog owner's decision to style her Pomeranian's ears turned hazardous when the dog developed an allergy.
The Pomeranian named Diffy suffered an allergic reaction to the chemicals in the dye after the owner took him to a dog stylist to get his ear and tail dyed bright red.
The workers at the grooming salon in Hua Hin, Thailand carried out a process called 'foil wrap' dye on the dog's soft fur. After 40 minutes of the process, Diffy got bright red ears and tail.
However, it was immediately apparent that Diffy's ears were drooping where earlier it stood straight up. The owner was told that his ears would recover after a few days, but it never happened.
Slowly, his ears started burning up even more due to allergy and Diffy even suffered from itchy skin. Later, it also started flaking.
The owner took to social media to seek help. She explained what happened to her dog and asked if anyone else had experienced something similar.
Although a few people came up to offer suggestions to the owner, several other slammed her for her irresponsibility, which had now cost the dog his ear.
Diffy's left ear was badly affected and it eventually dropped off. According to the owner, his ear was initially just itchy, but then it "burnt, turned black, cracked, and eventually fell off."
The owner also admitted that the dog's condition was no one else's fault but herself. Meanwhile, she suffered much criticism on social media for her 'irresponsible' decision.
Neeyada Sirisampandh, from Mid Road Lover dog rescue group based in Bangkok, warned everyone to take this case as a lesson that it is dangerous to dye one's dog's fur.
Similarly, a local named Nubdaww Prapharat said, "I feel sorry for the dog. They are not strong enough to endure all situations and can be easily harmed. I don't understand why the owner would put them through this suffering."
Recently, another dog grooming trend was also heavily criticized on social media after a pet salon posted about it on its official Facebook page.
Please fill in your e-mail so we can share with you our top stories!