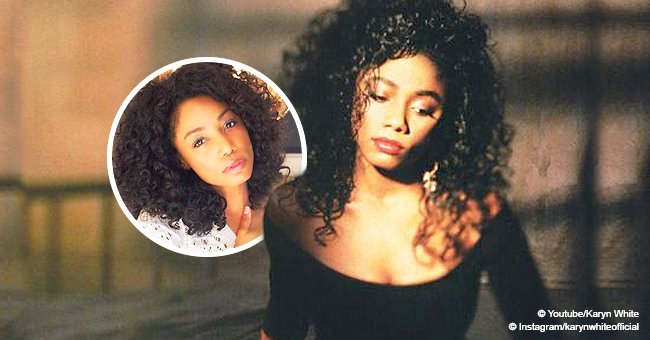 Remember 'Superwoman' singer Karyn White? She looks awesome at 53 & is still releasing new music
Karyn White was at the top of the R&B music charts back in the '80s and early '90s. Her hit song "Superwoman" became a hymn across the nation, but then she disappeared from the spotlight to raise her daughter. Today, White is 53, looking better than ever and back in the entertainment industry.
Karyn White is a name that every R&B fan is familiar with. Her singles "Romantic," "Secret Rendezvous," "The Way You Love Me" and the iconic "Superwoman," cemented her position in the R&B genre as one of the most successful singers of the '80s.
The now 53-year-old mother of two looks better than ever and is clear time has done wonders for her. She's been touring across the country and even visited South Africa a few months ago, all while leading her own media company, Karyn White Enterprises Inc., and producing, acting and releasing new music.
Her most recent single, "Lame Excuses," is part of the soundtrack of the film "Gale and The Storm," a sort of biographical movie produced by her company in which White gives life to Gale Storm, in her words: "a legendary pop singer who stepped away from the business."
Like her character in the film, Karyn also disappeared from the public in 1999, after releasing three studio albums. The same year, she divorced from music producer Terry Lewis after seven years of marriage, and also lost her mother.
White led a quiet life away from the industry for 18 years, but to this day, the singer seems to have inner regrets about her decision from moving on. "I never really said 'oh I'm going to quit music.' Time kind of happened, and then more time happened, and I felt like music had moved on," she told Music-News last year.
And continued:
"I kind of felt I lost confidence in myself. Then it turned into OK I'm raising my daughter, it was kind of I want to be with my daughter. Then I was flipping homes. Then my daughter graduated, and now what was I going to do?"
Karyn got into the real estate business, and that's the part of her story she doesn't regret. She said:
"I was designing and flipping homes, and saving homes in Sacramento. It was very lucrative for me, and I found that I did love it because it was creative. Also, I had to become more of an entrepreneur understanding business. So coming back into the industry I had all the things that prepared me for today because the landscape is so different."
White has managed to stay on shape and her voice, she says, sounds better than ever. She has more upcoming projects under her sleeve, and her most loyal fans are excited about getting new music this year.
"I'm really excited about the future. I'm definitely looking forward to doing more projects," she said.
And continued:
"This is the first film that we are going to release, and I'm going to be releasing more films especially things that are dealing with black people, and arts and music. I'm just excited about the landscape of today."
Please fill in your e-mail so we can share with you our top stories!