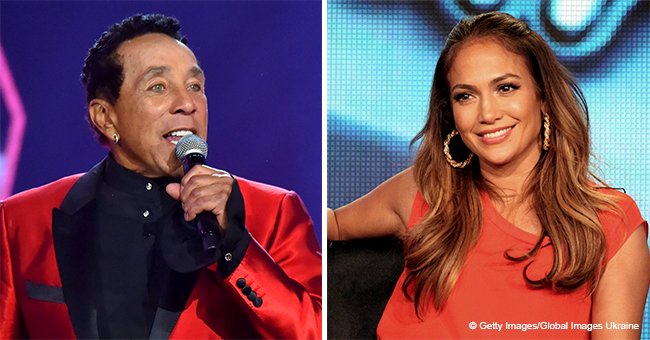 You're trying to set us back 100 years,' Smokey Robinson slams critics of J-Lo's Motown tribute

Smokey Robinson is standing up for Jennifer Lopez and her Motown tribute once again. This time he slammed critics in a detailed argument after her performance.
The legendary singer, Smokey Robinson came to Lopez's defense on Tuesday. After many fans argued that the 49-year-old singer should not have been chosen to perform during the Motown tribute at Grammy Awards, the 78-year-old felt he had to set the record straight one more time even though he already defended her before the performance.
The tribute aims to honor the genre made famous by artists like Marvin Gaye, The Supremes, Gladys Knight & the Pips and The Temptations. In a passionately worded post, Robinson refuted the argument from fans that because of the genre black performers should have been chosen not Lopez.
"Attention, all those of you who protested a wonderful, super talented, world-renowned, superstar like Jennifer Lopez, showing her love and support for Motown music, here's some food for thought," began Robinson's lengthy Instagram post on Tuesday.
Robinson continued his post by revealing that Berry Gordy had told five people who were present that he was going to start a record company to "make music for everybody." He added that Gordy wanted to "make quality music that the world can enjoy."
"Kids of all races, worldwide, grew up loving the music of Motown, imitating our acts," Robinson continued. "Pretending to be Diana Ross, the Temptations, Michael Jackson and so on. Parents were and still are turning their kids on to the music of Motown."
The "Crusin'" singer then slammed the people who were criticizing J. Lo. He said they were going against everything that the Motown era had set out to create and be.
"So now you're gonna try to diminish the scope of Motown and narrow it down to just music for black people and you call yourself defending the image of Motown," he said. "Well, you're trying to set us back a hundred years. If you call yourself loving Motown, be happy that we reached so many people and broke down so many racial barriers."
He added that artists like Jennifer love to do Motown tributes regardless of the negative feedback. "Now that's love and respect," said Robinson in admiration of their commitment to Motown.
Robinson went on to remind fans of other instances where artists of different ethnicities, including Tina Marie and Rare Earth, paid tribute to Motown. He claimed that those against J. Lo must have "hated" her predecessors' performances as well.
"Stop hating. Motown united people not divided them," he stated. "So don't call yourself loving Motown if you're a hater and spreading the same bigotry that you so strongly oppose coming at you from others. J Lo was great and we at Motown love her."
"Well you're trying to set us back a hundred years." said Smokey Robinson
"The beauty of Motown is that we're a family," explained Gordy in his closing statement. He went on to say Motown is "made up of Black, White, Hispanic, and Asian women and men," and has a diverse array of employee
Please fill in your e-mail so we can share with you our top stories!