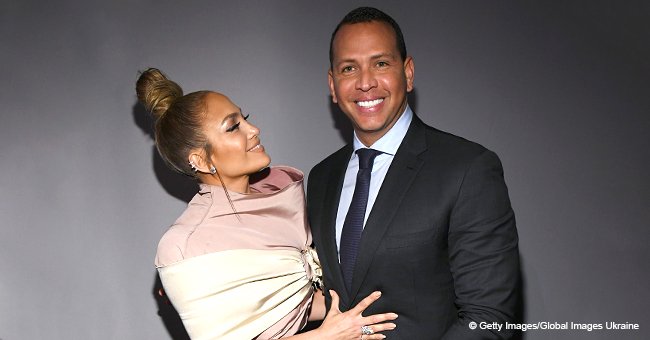 Jennifer Lopez recalls the extravagant gift A-Rod gave her for their first Valentine's Day

Jennifer Lopez revealed she and A-Rod coupled up right before Valentine's Day two years ago. She went on to reveal his extravagant gift that year.
Alex Rodriguez knows just how to spoil a woman. His girlfriend, Jennifer Lopez spilled the beans on how romantic A-Rod really is.
The former Yankees player has been dating, actress and singer, Jennifer Lopez for two years. After their very first date, he sealed the deal by spoiling her rotten.
The Second Act star, 49, revealed in a chat on "Jimmy Kimmel Live!" on Wednesday that she started dating A-Rod just before Valentine's Day. She went on to reveal Rodriguez hit a home run with his gift.
"I remember I was doing my show in Vegas, and I got to Vegas, and I flew in and I was tired and there were all these flowers and chocolates and cake and everything, and I was like, 'Who sent me all that?'" she recalled.
"I didn't know who it was kind of, because it was kind of new. But it was really nice because it made me feel like, 'Oh, he really likes me,'" she explained.
Lopez said that she and Rodriguez, 43, are "generous gift-givers." However, she also revealed she hadn't picked out a present for him for Valentines Day this year.
"This year I have a couple ideas… I have some work to do in the morning," she joked.
Kimmel then offered up a baseball for Rodriguez. He said the baseball player can use it to do "whatever he wants."
The star previously gushed about her life with A-Rod. She had revealed that they are thrilled that their kids (from previous marriages) get along so well. She even posted a pic, last year, with her ex-husband and her boyfriend A-Rod after attending her daughter's dance recital together.
"We love each other and we love our life together," she had said to PEOPLE in December. "The exciting part of our love is that we're both very aware of how lucky we are to have found each other."
Lopez will turn 50 in July and announced on Wednesday that she's celebrating her birthday with a 24-date summer tour across North America.
"My birthday's in July, and so this summer I decided I wanted to do something big for my birthday because it's a big birthday," she said on The Ellen DeGeneres Show.
Please fill in your e-mail so we can share with you our top stories!